Y
ouders' Story - Prof. Francis Chan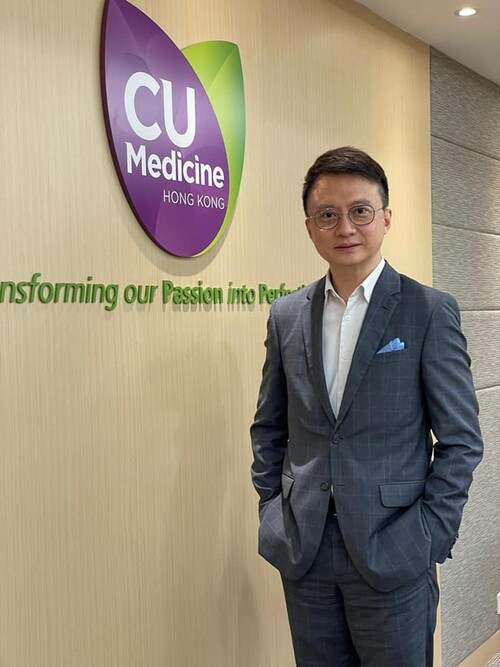 When we were still young, we were often asked about our future dream jobs. One of the most popular answers is becoming a doctor, because doctors enjoy the meaningful vocation to save lives. The recipient of Sir Edward Youde Memorial Scholarship for Undergraduate Students in 1987/88, Dean of the Faculty of Medicine, Chinese University of Hong Kong (CUHK), Prof. Francis Chan chose medicine initially to improve the financial situation of his family. But on his journey of studying medicine, he was inspired by his mentor and endeavoured to make a lasting impact to the world.

Prof. Chan's humble background, particularly in the era of limited resources, played a role in his zeal for striving for excellence and seizing every opportunity. With his high academic achievements in science during secondary school, studying medicine became the sensible path. His decision to study at the medical school at The Chinese University of Hong Kong was mainly based on its enormous potential for career development. Soon after graduation, he arrived at the next crossroads to choose the field of specialty training. Gastroenterology, as opposed to its current scale, was still at a budding stage back then. Inspired by his mentor Prof. Joseph Sung, the then department head and later the President and Vice-Chancellor of CUHK, he pursued gastroenterology to bring to light its possibilities.

A life purpose to make an impact in the world has been his motivation to become the Dean of Medicine at CUHK. However hard a doctor works, there is ultimately a finite number of patients that one can treat. Recognising the limitations of one single individual doctor, Prof. Chan devoted great effort to medical education and training future doctors in a hope to wield further influence to the local healthcare system and to offer quality service to more patients. Yet, increasing the quantity of doctors was not the antidote to all problems in the healthcare system. This realization prompted him to take up the role of Dean of Medicine in 2013, to advocate for policy-making and bring changes on a macroscopic level.

As the Dean of the Faculty of Medicine at CUHK, Prof. Chan wishes to transform medical education, research and clinical services. Inspired by his respected mentors, he understands that medical education is beyond merely passing on medical knowledge. Teachers need to be role models and enlighten students with their actions to become doctors with benevolence, prioritizing patients over themselves at all times. In research, researchers in the Faculty should not hide inside the ivory tower of academia and instead devote themselves to developing medical technologies that bring visible benefits to our society. As for clinical services, doctors should not be confined to taking care of individuals' health, but to step up to make innovations for our healthcare system with vision.

In addition to training doctors, the faculty also plays a role in the research and implementation of government policies. To relieve the plight of Hong Kong's over-crowded healthcare system, Prof. Chan suggested following Singapore's example – increasing the number of public service providers, and adopting a mixed financing system. Singapore's public hospitals are operated by three healthcare groups, which are government-owned corporations. In terms of financing, they adopt the "S + 3M" model: S for subsidies, the 3Ms represent MediSave, MediShield and MediFund. MediSave is a compulsory national health savings plan; MediShield is a national insurance scheme; MediFund is a government endowment scheme for the indigent with limited resources despite the combination of subsidies, Medisave and MediShield. Also, the pricing of public hospital rooms in Singapore varies. The standard of medical care is the same but more premium rooms cost more with premium services and facilities like TV and air-conditioning, which allow patients to choose based on their needs.

In view of the imbalance of the public and private healthcare sector in Hong Kong, Prof. Chan believes that encouraging partnership between the sectors is the key. He mentioned that the surveillance among hepatitis patients by ultrasound is recommended to be done every 6 months. However, both hardware and software of public hospitals cannot meet the demands. Therefore, making use of the idle resources of private hospitals can be a solution. The establishment of the CUHK Medical Centre also aims to break the existing framework and find a way out for Hong Kong's healthcare problem.

Prof. Chan is one of the first recipients of the Sir Edward Youde Memorial Scholarship (SEYMF), yet he still has a fresh memory of the selection process. He recalls submitting a self-recommendation letter to share his visions, and being interviewed by prominent medical leaders like Prof. Yuet-Wai Kan and the founding Dean of the Faculty of Medicine, CUHK, Prof. Gerald Choa. He believes that the scholarship aims to broaden the horizons of the awardees, as well as to improve the quality of education in Hong Kong. He is proud to have been recognised by the SEYMF and the scholarship had made it possible for him to travel abroad and realising how big the world is, it takes hard work to keep pace with a changing world.

35 years flew by, Prof. Chan grew from a diligent medical student to the Dean who led a Top 40 medical school in the world. Yet he has never forgotten why he started. He will continue to put the interests of his patients and the wider society as his top priority, and strive to build a better and different world.