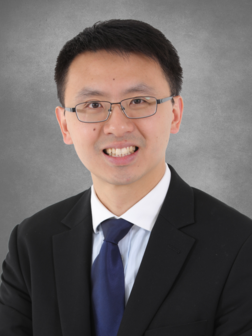 Dr. WONG Hei, Sunny
Assistant Dean (Research)
Associate Professor, Department of Medicine and Therapeutics
CUHK Employment
Assistant Dean (Research), Faculty of Medicine
Associate Professor, Department of Medicine and Therapeutics
Associate Professor, Institute of Digestive Disease, State Key Laboratory of Digestive Disease
Principal Investigator, Clinical Metagenomics Group, Li Ka Shing Institute of Health Science
Assembly Fellow, CW Chu College
Expertise
Endoscopy
Gastrointestinal cancers
Gastrointestinal infections
Clinical metagenomics
Education & Qualifications
MBChB (CUHK)(Hons), DPhil (Oxon), FRCP (Edin), FRCPath, FHKCP, FHKAM (Medicine)

Research Interests
Clostridioides difficile infection
Gastrointestinal cancer microbiota
Host-microbe interaction
Additional Information

Award and Honour
Excellent Young Scientists Fund Award, National Natural Science Foundation of China, 2019
Distinguished Research Paper Award for Young Investigators, Hong Kong College of Physicians, 2016, 2017 & 2018
Youth Dream Maker Award, Youth Dream-Makers Association, 2017
Croucher Assistant Professorship, 2013
Professional Service
Associate Editor, Journal of Gastroenterology and Hepatology
Editorial Board Member, Gut
Member of National and International Liaison Committee, Hong Kong College of Physicians
Academic Engagement in CUHK
Mentor, Global Physician Stream (GPS) Mentorship Scheme, Faculty of Medicine
Coordinator, Postgraduate Student Affairs, Department of Medicine and Therapeutics
Chairman, Committee on Mentorship & Internship, CW Chu College
Mentor, CW Chu College Final Year Project
Selected Publications

Kong KY, Kwong TNY, Chan H, Wong K, Wong SSY, Chaparala AP, Chan RCY, Zhang L, Sung JJY, Yu J, Hawkey PM, Ip M, Wu WKK, Wong SH. Biological characteristics associated with virulence in Clostridioides difficile ribotype 002 in Hong Kong. Emerg Microbes Infect. 2020;9(1):631-638.
Wong SH, Hill AV, Vannberg FO. Genomewide association study of leprosy. N Engl J Med 2010;362(15):1446-7; author reply 47-8.
Wong SH, Gochhait S, Malhotra D et al. Leprosy and the adaptation of human Toll-like receptor 1. PLoS Pathog 2010;6(7):e100097
Wong SH, Ip M, Hawkey PM et al. High morbidity and mortality of Clostridium difficile infection and its associations with ribotype 002 in Hong Kong. J Infect 2016;73(2):115-22.
Ho J, Dai RZW, Kwong TNY, Wang X, Zhang L, Ip M, Chan R, Hawkey PMK, Lam KLY, Wong MCS, Tse G, Chan MTV, Chan FKL, Yu J, Ng SC, Lee N, Wu JCY, Sung JJY, Wu WKK, Wong SH. Disease burden of Clostridium difficile infections in adults, Hong Kong, China, 2006-2014. Emerg Infect Dis 2017;23(10):1671-79.
Kwong TNY, Wang X, Nakatsu G, Chow TC, Tipoe T, Dai RZW, Tsoi KKK, Wong MCS, Tse G, Chan MTV, Chan FKL, Ng SC, Wu JCY, Wu WKK, Yu J, Sung JJY, Wong SH. Association between bacteremia from specific microbes and subsequent diagnosis of colorectal cancer. Gastroenterology 2018;155(2):383-90 e8.
Wong SH, Kwong TN, Chow TC et al. Quantitation of faecal Fusobacterium improves faecal immunochemical test in detecting advanced colorectal neoplasia. Gut 2017;66(8):1441-48.
Wong SH, Zhao L, Zhang X et al. Gavage of fecal samples from patients with colorectal cancer promotes intestinal carcinogenesis in germ-free and conventional mice. Gastroenterology 2017;153(6):1621-33 e6.
Wong SH, Wu WKK. Clinical applications of gut microbiota in cancer biology. Semin Cancer Biol. 2019;55:iii-iv.
Wong SH, Yu J. Gut microbiota in colorectal cancer: mechanisms of action and clinical applications. Nat Rev Gastroenterol Hepatol. 2019;16(11):690-704.