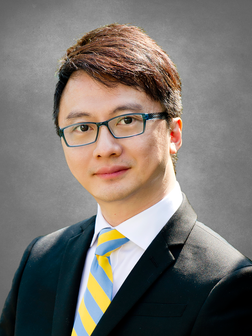 Professor CHAN Ka Leung, Francis, SBS, JP
Dean
Choh-Ming Li Professor of Medicine and Therapeutics
CUHK Employment
Dean, Faculty of Medicine
Choh-Ming Li Professor of Medicine and Therapeutics
Director, Centre for Gut Microbiota Research
Expertise
Peptic ulcer bleeding
Helicobacter pylori
Endoscopic therapy
Colorectal cancer
Education &

Qualifications
MBChB(Hons)(CUHK), MD(CUHK), DSc(CUHK), FHKCP, FHKAM(Med), FRCP(Irel), FRCP(Edin), FACG, FRCP(Lond)
Research Interests
Translational applications of gut microbiota
Prevention of NSAID- and aspirin-associated ulcer complications
Additional Information
Award & Honour
First-class award in Natural Sciences, Higher Education Outstanding Scientific Research Output Award (Science and Technology), Ministry of Education, People's Republic of China, 2020

ExpertScape Named Top 0.06% World Expert in Aspirin, Helicobacter Infections and Peptic Ulcer, 2019

Honorary Doctorate Degree, Osaka City University, 2018

Honorary Fellow of Internal Medicine, Royal College of Physicians of Thailand, 2018
International Leadership Award, The American College of Gastroenterology, 2018
27th Seah Cheng Siang Memorial Lecturer, 2017
19th Vikit Viranuvatti's Lecturer, 2016
JGHF Marshall and Warren Lecturer, 2011
Andy Martynoga Memorial Lecturer, 2008
Croucher Senior Medical Research Fellowship, 2007-2008
The State Scientific and Technological Progress Award, National Office for Science and Technology Awards of PRC, 2007
David Y. Graham Lecturer, The American College of Gastroenterology, 2005
Professional Service
Board Member, Hong Kong Hospital Authority
Member (Jan 2017 – Jan 2023), Colorectal Cancer Screening Pilot Programme Task Force, Department of Health
Member (Aug 2014 – Jul 2016), Expert Panel of Central Research Working Group (CRWG) for Hospital Authority Chinese Medicine Research, Hong Kong Hospital Authority
Member (Dec 2020 – Oct 2022), Advisory Board, The Hong Kong Jockey Club Disaster Preparedness and Response Institute
Convenor, Endoscopy Task Force of Project Steering Committee on Standards for Ambulatory Facilities, Department of Health
Ex-officio Member (Nov 2017 – Oct 2019), Research Fellowship Assessment Panel, Food and Health Bureau
Member (Oct 2017 – Sep 2023), External Review Committee, Hong Kong Sanatorium & Hospital
Honorary Advisor (Dec 2017 – Feb 2021), Hong Kong Association for Integration of Chinese-Western Medicine
Advisor on Education, Peking Union Medical College (PUMC)
Panelist, Global Panel of Clinicians and Clinical Researchers, Nature [to help Nature select a list of high-quality clinical journals for inclusion in the Nature Index]
Nominator, Future Science Prize, Beijing, PRC
External Assessor in Gastroenterology, University of Malaya, Malaysia
Leader, Task Force for Developing Clinical Practice Guidelines for Clinicians in Asia Pacific Countries, appointed by Asian Pacific Association of Gastroenterology and the Asian Pacific Society of Digestive Endoscopy
Member (Jul 2018 – Apr 2021), Open Fund Large Collaborative Grant Review Panel, National Medical Research Council, Ministry of Health, Singapore
Brief CV
Selected Publications
Professor Chan has published more than 840 full scientific articles in high impact factor international journals such as New England Journal of Medicine, Lancet and Gastroenterology with an H-index 120.
Ng SC, Xu Z, Mak JWY, Yang K, Liu Q, Zuo T, Tang W, Lau L, Lui RN, Wong SH, Tse YK, Li AYL, Cheung K, Ching JYL, Wong VWS, Kong APS, Ma RCW, Chow EYK, Wong SKH, Ho ICH, Chan PKS, Chan FKL. Microbiota engraftment after faecal microbiota transplantation in obese subjects with type 2 diabetes: a 24-week, double-blind, randomised controlled trial. Gut. 2021 Mar 30:gutjnl-2020-323617.
Ng SC, Kamm MA, Yeoh YK, Chan PKS, Zuo T, Tang W, Sood A, Andoh A, Ohmiya N,Zhou Y, Ooi CJ, Mahachai V, Wu CY, Zhang F, Sugano K, Chan FKL. Scientific frontiers in faecal microbiota transplantation: joint document of Asia-Pacific Association of Gastroenterology (APAGE) and Asia-Pacific Society for Digestive Endoscopy (APSDE). Gut. 2020 Jan;69(1):83-91.
Chan FKL, Ching JYL, Tse YK, Lam K, Wong GLH, Ng SC, Lee V, Au KWL, Cheong PK, Suen BY, Chan H, Kee KM, Lo A, Wong VWS, Wu JCY, Kyaw MH. Gastrointestinal safety of celecoxib versus naproxen in patients with cardiothrombotic diseases and arthritis after upper gastrointestinal bleeding (CONCERN): an industry-independent, double-blind, double-dummy, randomised trial. Lancet. 2017 Jun 17;389(10087):2375-2382.
Chan FKL, Lanes A, Scheiman J, Berger MF, Nguyen H, Goldstein JL. Celecoxib versus omeprazole and diclofenac in patients with osteoarthritis and rheumatoid arthritis (CONDOR): a randomised trial. Lancet 2010 Jul 17;376(9736):173-9.
Chan FK, Wong VW, Suen BY, Wu JC, Ching JY, Hung LC, Hui AJ, Leung VK, Lee VW, Lai LH, Wong GL, Chow DK, To KF, Leung WK, Chiu PW, Lee YT, Lau JY, Chan HL, Ng EK, Sung JJ. Combination of a cyclo-oxygenase-2 inhibitor and a proton-pump inhibitor for prevention of recurrent ulcer bleeding in patients at very high risk: a double-blind, randomised trial. Lancet 2007;369(9573):1621-6.
Chan FK, Ching JY, Hung LC, Wong VW, Leung VK, Kung NN, Hui AJ, Wu JC, Leung WK, Lee VW, Lee KK, Lee YT, Lau JY, To KF, Chan HL, Chung SC, Sung JJ. Clopidogrel versus aspirin and esomeprazole to prevent recurrent ulcer bleeding. N Engl J Med 2005;352(3):238-44.
Chan FK, Hung LC, Suen BY, Wu JC, Lee KC, Leung VK, Hui AJ, To KF, Leung WK, Wong VW, Chung SC, Sung JJ. Celecoxib versus diclofenac and omeprazole in reducing the risk of recurrent ulcer bleeding in patients with arthritis. N Engl J Med 2002;347(26):2104-10.
Chan FK, To KF, Wu JC, Yung MY, Leung WK, Kwok T, Hui Y, Chan HL, Chan CS, Hui E, Woo J, Sung JJ. Eradication of Helicobacter pylori and risk of peptic ulcers in patients starting long-term treatment with non-steroidal anti-inflammatory drugs: a randomised trial. Lancet 2002;359(9300):9-13.
Chan FK, Chung SC, Suen BY, Lee YT, Leung WK, Leung VK, Wu JC, Lau JY, Hui Y, Lai MS, Chan HL, Sung JJ. Preventing recurrent upper gastrointestinal bleeding in patients with Helicobacter pylori infection who are taking low-dose aspirin or naproxen. N Engl J Med 2001;344(13):967-73.
Chan FK, Sung JJ, Chung SC, To KF, Yung MY, Leung VK, Lee YT, Chan CS, Li EK, Woo J. Randomised trial of eradication of Helicobacter pylori before non-steroidal anti-inflammatory drug therapy to prevent peptic ulcers. Lancet 1997;350(9083):975-9.