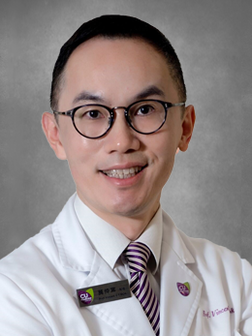 Professor MOK Chung Tong, Vincent
Assistant Dean (Admissions)
Professor, Department of Medicine and Therapeutics
Mok Hing Yiu Professor of Medicine
CUHK Employment
Assistant Dean (Admissions), Faculty of Medicine

Head of Neurology, Division of Neurology, Department of Medicine and Therapeutics

Professor, Department of Medicine and Therapeutics

Mok Hing Yiu Professor of Medicine

Director, Therese Pei Fong Chow Research

Centre for Prevention of Dementia

Director, Margaret K.L. Cheung Research Centre for Management of Parkinsonism

Co-Director, Gerald Choa Neuroscience Centre

Convener, BRAIN Theme of Lui Che Woo

Institute of Innovative Medicine

Executive Committee Member, Chow Yuk Ho Technology Center for Innovative Medicine

Executive Committee Member, Brain and Mind Institute



Expertise
Neurology
Dementia
Movement Disorders
Education and qualifications
MBBS (Syd), MD (CUHK), FRCP (Edin), FHKAM (Medicine), FHKCP, MRCP (UK)
Research Interests
Vascular Cognitive Impairment, Poststroke Dementia and Mixed Dementia
Cerebral Small Vessel Disease
Multi-modal Brain and Retinal Imaging for Stroke and Cognitive Impairment
Parkinson's Disease
Additional Information
Award & Honour
Excellent Research Award (Food & Health Bureau, HKSAR), 2017
Outstanding Fellow of Faculty of Medicine, CUHK, 2016
Ministry of Education Higher Education Outstanding Scientific Research Output Award – First-class Award in Natural Sciences, 2012
Master Teacher Award, Faculty of Medicine, CUHK, 2012
Teacher of the Year Award, Faculty of Medicine, CUHK, 2005–2012
Professional Service
Secretary of the Neurology Specialty Board, Hong Kong College of Physicians
Advisory Council Member of the Alzheimer's Association International Society to Advance Alzheimer's Research and Treatment (ISTAART)
Hong Kong Representative of the World Federation of Neurology, 2012 – Present
Executive Committee Member of the International Society of Vascular Behavioral and Cognitive Disorders, 2011 –Present
Honorary Treasurer of the Asian Society Against Dementia, 2011 – Present
Chair of the Local Organizing Committee of the 9th International Meeting of the International Society of Vascular Behavioural and Cognitive Disorders, Hong Kong SAR, 2018
Co-Chair of the Congress Scientific Program Committee of International Congress of the International Parkinson's Disease and Movement Disorder Society, Hong Kong SAR, 2018
Vice-Chair and Hong Kong Representative of the China Greater Bay Guang Zhou-Hong Kong-Macau Neurology Alliance, 2018
Chair of the Scientific Program Committee of the Asia Pacific Stroke Conference, Nanjing China, 2017
Past-President of the Chinese Dementia Research Association, 2015 – 2016
Past-President of the Hong Kong Movement Disorder Society, 2011 – 2013
Academic Engagement in CUHK
Coordinator for Mentorship Programme for Global Physician Leadership Stream
Director, GIFT Care Professional Certificate Programme in Promoting Well-being in Informal Caregivers of Dementia
Selected Publications

Shi L, Zhao L, Yeung FK, Wong SY, Chan KT, Tse MF, Sze CC, Kwong YC, Li KC, Liu K, Abrigo J, Lau A, Wong A, Lam B, Leung T, Fu J, Chu WCW, Mok VCT. Mapping the contribution and strategic distribution patterns of neuroimaging features of small vessel disease in post-stroke cognitive impairment. JOURNAL OF NEUROLOGY NEUROSURGERY AND PSYCHIATRY. 2018. (in press)
Jansen, WJ; Ossenkoppele, R; Tijms, BM; Fagan, AM; Hansson, O; Klunk, WE; van der Flier, WM; Villemagne, VL; Frisoni, GB; Fleisher,AS; Lleó, A; Mintun, MA; Wallin, A; Engelborghs, S; Na, DL; Chételat, G; Molinuevo, JL; Landau, SM; Mattsson, N; Kornhuber, J ; Sabri, O; Rowe, CC; Parnetti, L ; Popp, J; Fladby, T; Jagust, WJ; Aalten, P; Lee, DY; Vandenberghe, R; de Oliveira, CR; Kapaki, E; Froelich, L; Ivanoiu, A; Gabryelewicz, T; Verbeek, MM; Sanchez-Juan, P; Hildebrandt ,H; Camus, V; Zboch, M; Brooks, DJ; Drzezga, A; Rinne, JO; Newberg, A; de Mendonça, A; Sarazin, M; Rabinovici, GD; Madsen, K; Milica G. Kramberger, MG; Nordberg, A; Mok, V ; Mroczko, B; Wolk, DA; Meyer,PT; Magda Tsolaki, M; Scheltens, P; Verhey, FRJ; Visser, PJ; Amyloid Biomarker Study Group. Association of Cerebral Amyloid-β Aggregation With Cognitive Functioning in Persons Without Dementia. JAMA Psychiatry. 2018 Jan 1;75(1):84-95.
Mok VCT, Lam BYK, Wong A, Ko H, Markus HS, Wong LKS. Early-onset and delayed-onset poststroke dementia - revisiting the mechanisms. Nature Reviews Neurology. 2017 Mar;13(3):148-159.
Mok VCT, Lam BYK, Wang ZL, Liu WY, Au L, Leung EYL, Chen SR, Yang J, Chu, WCW, Lau AYL, Chan AYY, Shi L, Fan F, Ma SH, Ip V, Soo YOY, Leung TWH, Kwok TCY, Ho CL, Wong LKS, Wong A. Delayed-onset dementia after stroke or transient ischemic attack. Alzheimers Dement. 2016 Nov;12(11):1167-1176.
Yang J, Wong A, Wang Z, Liu W, Au L, Xiong Y, Chu WW, Leung EY, Chen S, Lau C, Chan AY, Lau AY, Fan F, Ip V, Soo Y, Leung T, Ho CL, Wong LK, Mok VC. Risk factors for incident dementia after stroke and transient ischemic attack. Alzheimers Dement. 2015 Jan;11(1):16-23.
Liu W, Wong A, Au L, Yang J, Wang Z, Leung EY, Chen S, Ho CL, Mok VC. Influence of Amyloid-β on Cognitive Decline After Stroke/Transient Ischemic Attack: Three-Year Longitudinal Study. Stroke. 2015 Nov;46(11):3074-80.
Jansen WJ, Ossenkoppele R, Knol DL, Tijms BM, Scheltens P, Verhey FR, Visser PJ; Amyloid Biomarker Study Group, Aalten P, Aarsland D, Alcolea D, Alexander M, Almdahl IS, Arnold SE, Baldeiras I, Barthel H, van Berckel BN, Bibeau K, Blennow K, Brooks DJ, van Buchem MA, Camus V, Cavedo E, Chen K, Chetelat G, Cohen AD, Drzezga A, Engelborghs S, Fagan AM, Fladby T, Fleisher AS, van der Flier WM, Ford L, Förster S, Fortea J, Foskett N, Frederiksen KS, Freund-Levi Y, Frisoni GB, Froelich L, Gabryelewicz T, Gill KD, Gkatzima O, Gómez-Tortosa E, Gordon MF, Grimmer T, Hampel H, Hausner L, Hellwig S, Herukka SK, Hildebrandt H, Ishihara L, Ivanoiu A, Jagust WJ, Johannsen P, Kandimalla R, Kapaki E, Klimkowicz-Mrowiec A, Klunk WE, Köhler S, Koglin N, Kornhuber J, Kramberger MG, Van Laere K, Landau SM, Lee DY, de Leon M, Lisetti V, Lleó A, Madsen K, Maier W, Marcusson J, Mattsson N, de Mendonça A, Meulenbroek O, Meyer PT, Mintun MA, Mok V, Molinuevo JL, Møllergård HM, Morris JC, Mroczko B, Van der Mussele S, Na DL, Newberg A, Nordberg A, Nordlund A, Novak GP, Paraskevas GP, Parnetti L, Perera G, Peters O, Popp J, Prabhakar S, Rabinovici GD, Ramakers IH, Rami L, Resende de Oliveira C, Rinne JO, Rodrigue KM, Rodríguez-Rodríguez E, Roe CM, Rot U, Rowe CC, Rüther E, Sabri O, Sanchez-Juan P, Santana I, Sarazin M, Schröder J, Schütte C, Seo SW, Soetewey F, Soininen H, Spiru L, Struyfs H, Teunissen CE, Tsolaki M, Vandenberghe R, Verbeek MM, Villemagne VL, Vos SJ, van Waalwijk van Doorn LJ, Waldemar G, Wallin A, Wallin ÅK, Wiltfang J, Wolk DA, Zboch M, Zetterberg H. Prevalence of cerebral amyloid pathology in persons without dementia: a meta-analysis. JAMA. 2015 May 19;313(19):1924-38.
Wardlaw JM, Smith EE, Biessels GJ, Cordonnier C, Fazekas F, Frayne R, Lindley RI, O'Brien JT, Barkhof F, Benavente OR, Black SE, Brayne C, Breteler M, Chabriat H, Decarli C, de Leeuw FE, Doubal F, Duering M, Fox NC, Greenberg S, Hachinski V, Kilimann I, Mok V, Oostenbrugge Rv, Pantoni L, Speck O, Stephan BC, Teipel S, Viswanathan A, Werring D, Chen C, Smith C, van Buchem M, Norrving B, Gorelick PB, Dichgans M. Neuroimaging standards for research into small vessel disease and its contribution to ageing and neurodegeneration. Lancet Neurol. 2013 Aug;12(8):822-38.
Mok V, Leung EY, Chu W, Chen S, Wong A, Xiong Y, Lam W, Ho CL, Wong KS. Pittsburgh compound B binding in poststroke dementia. J Neurol Sci. 2010 Mar 15;290(1-2):135-7.
Mok VC, Lam WW, Fan YH, Wong A, Ng PW, Tsoi TH, Yeung V, Wong KS. Effects of statins on the progression of cerebral white matter lesion: Post hoc analysis of the ROCAS (Regression of Cerebral Artery Stenosis) study. J Neurol. 2009 May;256(5):750-7.