Start main content
Upcoming Events

Upcoming Events
https://www.med.cuhk.edu.hk/upcoming-events/cu-medicine-40th-anniversary-kick-off-ceremony-and-medical-alumni-homecoming-day-2021
https://www.med.cuhk.edu.hk/upcoming-events/cu-medicine-40th-anniversary-kick-off-ceremony-and-medical-alumni-homecoming-day-2021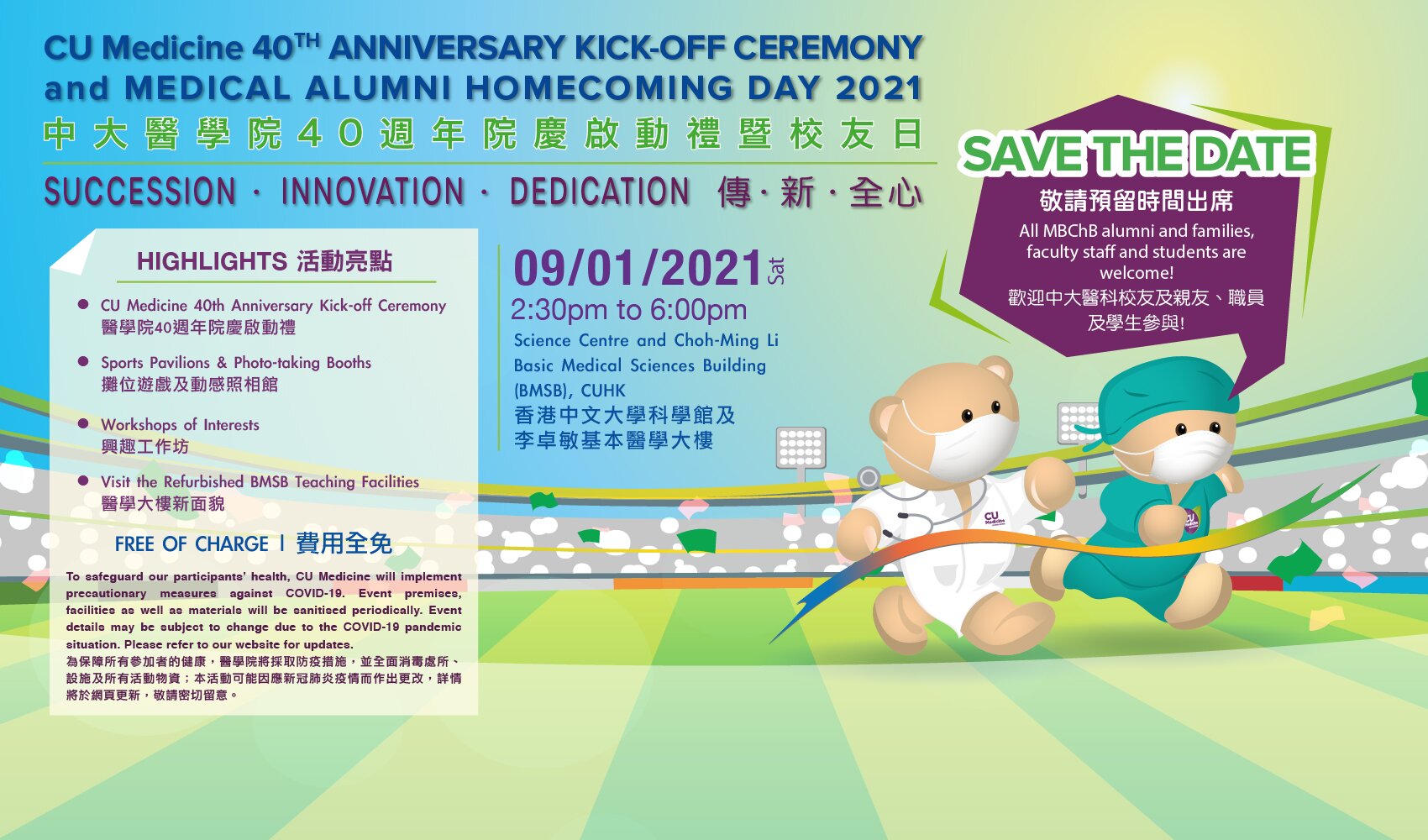 Science Centre and Choh-Ming Li Basic Medical Sciences Building (BMSB), CUHK
Click
here
for registration
CU Medicine 40th Anniversary Kick-off Ceremony and Medical Alumni Homecoming Day 2021
The CU Medicine 40th Anniversary is coming!
If you wish to …
celebrate this special moment with the Faculty

explore the new face of BMSB

connect with the latest medical education and what medical student life likes

chit-chat with alumni across different years

have fun with families in your alma mater

Don't miss the CU Medicine 40th Anniversary Kick-off Ceremony and Medical Alumni Homecoming Day 2021 to hook up with your teachers, dear old friends and classmates. All ages are welcome to have fun with CU Medicine!
Details of the event are as follows:
40th Anniversary Kick-off Ceremony

and

Medical Alumni Homecoming Day 2021

Date:

9 January 2021 (Saturday)

Time:

2:30pm to 6:00pm

Venue:

Science Centre and Choh-Ming Li Basic Medical Sciences Building (BMSB), CUHK

Highlights:

CU Medicine 40th Anniversary Kick-off Ceremony
Sports Pavilions
Photo-taking Booths
Workshops of Interests
Visit the Refurbished BMSB Teaching Facilities

Fee:

Free of Charge

Registration:

Enquiry:
Remarks:
All MBChB alumni and families, faculty staff and students are welcome! Please SAVE THE DATE!
To safeguard our participants' health, CU Medicine will implement precautionary measures against COVID-19. Event premises, facilities as well as materials will be sanitised periodically.
Event details may be subject to change due to the COVID-19 pandemic situation. Please refer to our website for updates.