Lessons From the Kitchen: Physician-Chefs Share Love for Cooking and Medicine
People love food, but not everyone enjoys preparing it. Three of our CU Medicine graduates, however, find incomparable joy in dishing up a meal. We recently caught up with these doctors to learn how their time in university had nurtured their culinary passions, and how their tasty adventures have influenced their medical careers ever since.
---
The kitchen may not be the typical place for medical students to hang out. After all, medical schools are notorious for their hardworking students and long study hours. But for CU Medicine alumni Dr. Dominic LEE 李德誠 (MBChB 1991), Dr. Dylan CHAN 陳鼎鼐 (MBChB 1991), and Dr. Josephine MAK 麥忻華 (MBChB 2002), cooking had been a significant part of their university life, giving them their first taste of independence—a way to cope and connect with their new home away from home.
At CU Medicine, these "doctor-chefs" would come to realise that finding success in the kitchen and in the medical profession is rather similar: both require ingredients that they must constantly seek and season to perfection.
An Acquired Taste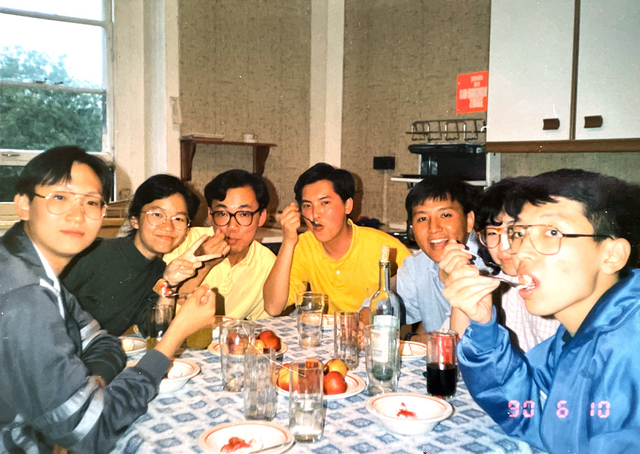 Discovering the joys of cooking is a process different for everyone. At 12 years old, helping his mother through postpartum confinement, Dr. LEE learned to prepare simple comfort dishes like Chinese steamed egg and steamed pork patties. Years later, this essential life skill would come in very handy in medical school.
"I enjoyed different types of foods at CU Medicine, from casual meals at nearby Tai Po food stalls to fancier fare at the Yucca de Lac Restaurant. But the most unforgettable flavour would have to be my curry chicken wings – they were tasty, easy to make, and brought people together whenever I made them in our dormitory," he said.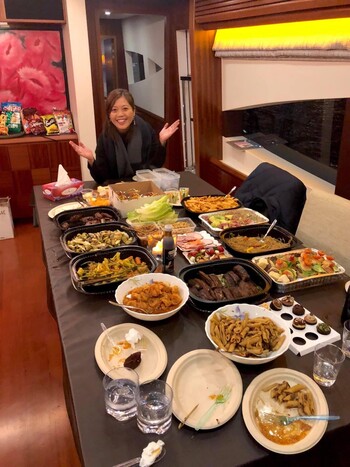 Dr. MAK, a plastic surgeon, also received cooking lessons from her mother at a young age, mastering the rice cooker by primary one and experimenting with other dishes the year after. Like Dr. LEE, she was seen cooking chicken wings at the CU Medicine dorms as a student, and today continues to delight friends and families with her flavourful Thai dishes and authentic feel-good Chinese cooking.

"I set up a stove on our dormitory terrace and liked to cook fresh seafood catches from the nearby Yuen Chau Kok market. The smell of fried garlic would always draw a crowd," reminisced Dr. CHAN, currently an ophthalmologist-cum-restaurateur who owns a sushi bar and a teppanyaki restaurant with his friends. To these doctors, the CU Medicine dorms were more than a place for studies and rest – they were a perfect haven for creating memories and strengthening friendships over a delicious bite.
Harnessing Creativity
Dr. MAK believes that cooking is a skill developed over time. "Instead of using a recipe, I usually rely on my instinct to perfect every dish. The steps for preparing dishes like drunken shrimp or drunken abalone, for example, need to be tweaked depending on the season or occasion. These are the experiences and insights that eventually help every chef become more confident in different situations," she said.
The plastic surgeon compares this journey of experimentation and discovery to her work: "There is always more than one way to cover a surgical wound or repair a scar. We cannot be attached to one standard recipe – we have to evaluate individual needs and create tailored treatment plans based on those needs."
Echoing these thoughts, Dr. LEE said that while following a "recipe" – like prescribing medicine – is a fundamental skill, both chefs and doctors must exercise flexibility and good judgment to get the best outcome.

"Sometimes all you need is 'enough'," he said. "I often prescribe one-eighth of a tranquilizer dose for daytime use; it's just the right amount for the patient. It's the same with seasoning a dish – use just the amount you need based on your best judgment".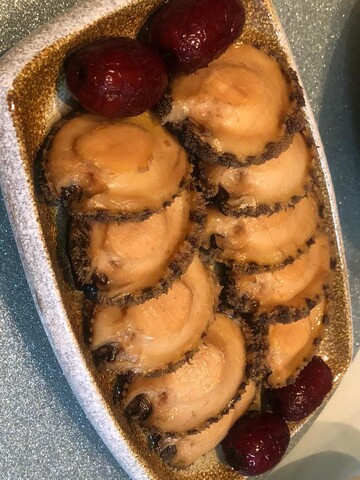 Drunken abalone prepared by Dr. MAK
Connecting With People
The three doctors agree that in both cooking and the pursuit of medical knowledge, it is imperative to stay focused on what matters most: people.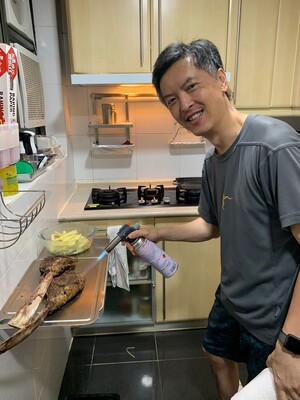 "Our sushi chef loves talking to customers, finding out what they like, and serving up dishes that satisfy their cravings. Doctors should also treat patients as their most important customers," shared Dr. CHAN, who has lived by these words from the late Dean CHOA since his first day as a CU Medicine student: "Being a doctor is not about treating a person's sickness. It is about treating a person who is sick."
"Experienced restaurant managers always greet repeat customers by name. Doctors would develop better relationships with their patients if they played by the same book. Simple gestures like recognising a patient's face, even behind a mask, cultivates trust and respect with the very people who are entrusting their health to you," added Dr. CHAN.
Indeed, gaining customer confidence requires work and, according to Dr. LEE, a flair for communication. "I admire the style of French chef Mr. Joël ROBUCHON, who knows how showmanship can elevate the dining experience. I once watched him slice white truffles for guests, while cheerfully saying, "here's more! Let me offer you more!" Beyond impressing people with his culinary skills, Mr. ROBUCHON also makes everyone feel like an esteemed guest. Doctors can certainly do the same. Treat every patient as a VIP, and they will be much more agreeable to their prescribed treatment plan and have a better chance for recovery," he said.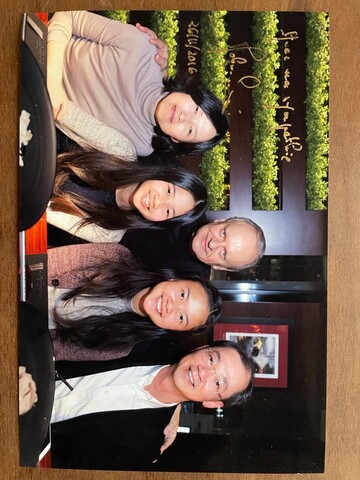 Mr. Joel ROBUCHON with Dr. Dominic LEE (MBChB 1991) and his family
Cultivating Habits of Discipline
Habits used in cooking not only help these doctors connect with others, they also enable them to work more efficiently.
"There is a lot of preparatory work involved in the kitchen, especially for Chinese cuisine. Everything must be planned so that all dishes are served hot. Stewed dishes take longer to cook, so they should be prepared first. Deep-fried dishes should not be served as consecutive courses. You need to plan ahead, and decide if any tasks can be executed simultaneously to save time," shared Dr. MAK.
Five years ago, the plastic surgeon ventured into the private kitchen scene, serving curated meals every weekend at Wan Chai Art Centre. As there were often up to 30 people per dinner event, she would start shopping and preparations the day before.
"Plastic surgery also involves thoughtful planning. Before an operation, you need to get a thorough understanding about the disease, know what skills to apply, and get all the necessary tools ready. All these methodical arrangements spell the difference between a six-hour and a 12-hour operation," she said.

A Tireless Quest for Improvement

Mastering operation pre-work may seem routine, but according to Dr. CHAN, doctors can always aim for some form of progress in even the simplest of tasks.
"Japan's longtime Mr. Michelin-starred JIRO Ono is famed for his flawless sushi – the sashimi is just the right size, the rice is of the perfect firmness. Every cut is precise, not too deep, too shallow, too long, or too short. His method seems repetitive, but this accumulation of mastery is what makes each sushi better than the last," the doctor said.
"In parallel, doctors cannot stay at the same level. We must evolve, continue to delve into new methods, or use new ideas," he added.
Reiterating this quest for excellence, Dr. LEE shared that the hunger for improvement must always be fed, no matter how hard or time-consuming. "Before recommending any restaurant to my friends and readers of my food column, I always visit it at least six times and make sure the quality is consistent," he said.
Best Enjoyed with Others
While our doctors can be serious about perfecting their skills, they also take the time to enjoy and reflect on the fruits of their labour.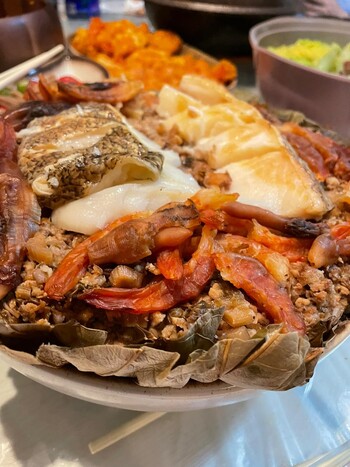 "It gives me great joy to give people another chance at life, or to see families happy after a baby's successful cleft lip surgery. It's the same feeling I get when my dining guests suddenly go quiet—too busy eating to talk! I know that means they're just blown away by my cooking," enthused Dr. MAK.
While Dr. MAK had closed her private kitchen practice three years ago, she still cooks for family celebrations and boat trips at least four times a year. Friends love her special dish, "Snow White Emerging from Wintersweet Flowers" (白鱈尋梅), her version of steamed rice made with pickled vegetables, minced pork, white cod and dried shrimp, mixed with her homemade sauce.
Dr. CHAN added, "Good food, like the medical profession, is a source of energy, comfort, healing, and satisfaction for people. I'm glad that my passion for my job and for food enables me to bring people from a place of hunger to fullness, and from blindness to vision."
The eye doctor also attributes his success to his restaurant partners, fellow colleagues and support staff who have trusted him over the years. He hopes to open his third restaurant in Kowloon soon.
Dr. LEE, on the other hand, always looks forward to his monthly gatherings at home with his friends and old classmates.
"I once served home-cooked lard with premium soy sauce over jasmine rice to a group of doctor friends. They knew about the cholesterol, but they just couldn't help eating it. It was literally a 'dish to die for,'" Dr. LEE mused. "Good restaurants are not hard to find in Hong Kong; it's sometimes harder to find time out of everyone's busy schedules to share a meal together. I am grateful to have my three-decade young friends from CU Medicine to share my love of food," he added.
From amateur cooks to confident chefs, these doctors have worked hard to become better at their craft every day, inspiring others with their insatiable appetite for serving and delighting others.