Lighting the Way Forward: 40 Years of CU Medicine
In 2021 CUHK's Faculty of Medicine celebrates its 40th anniversary. Coincidentally, in this same year QS World University Rankings places this Faculty in 40th position among the world's approximately 2,800 medical schools. Since this ranking represents a notable milestone, we met with the Faculty's Dean, Professor Francis CHAN to discuss the School's memorable journey and his vision for its future.
---
Medical students are known to burn the midnight oil. Nevertheless, in his student days, Professor CHAN studied well beyond such time. In the early hours of most days, while the campus was draped in darkness, the light in his dorm window was the only thing visible around Chung Chi College. This earned him the nickname, "The Chung Chi Lighthouse".

A lighthouse serves as a guiding light. Now serving as the Faculty's Dean since 2013, Professor CHAN justifies being called by the same moniker that he acquired as a student. He continues to be a role model in terms of his teaching ability, research accomplishments, dedicated clinical service and in terms of the Faculty becoming internationally recognised as a centre of excellence. However, as he is quick to point out, a milestone is just one point in any journey, not its end. "Success is its own worst enemy. There is never a good time for complacency. When you reach a milestone, you should already be heading towards the next one, while never forgetting to be grateful to those who made the journey, up to that point, successful."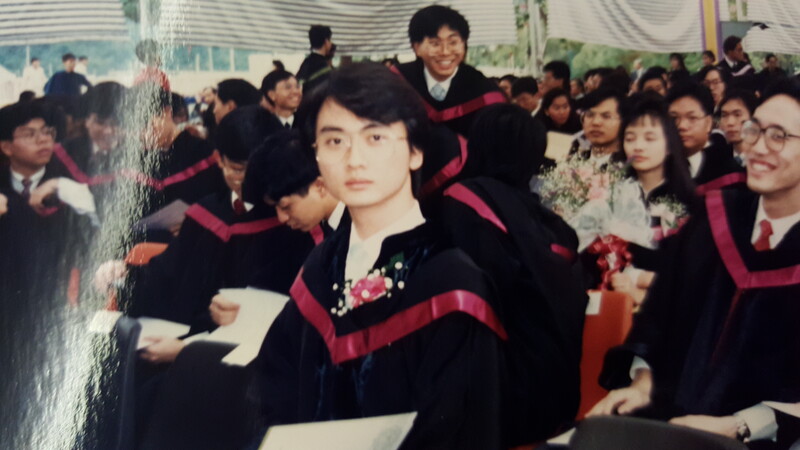 Standing on the Shoulders of Giants
With an air of humility, characteristic of many CU Medicine alumni, Professor CHAN reflected on the Faculty's humble beginnings and the inspirational leadership of others that guided the school through its 40-year development.
"The late Professor Gerald H. CHOA was a great influence on both CU Medicine and me personally." Professor CHAN recalled an incident when the Founding Dean helped him apply for financial assistance. "To him it might have been a simple act in supporting a student of modest means, but for myself, the impact was profound."

Professor CHAN described Professor CHOA as showing the same care and attention in everything he did in establishing CU Medicine. With limited resources and no proper teaching hospital in the earliest years, Professor CHOA's tenacity enabled the Faculty to get off the ground on schedule and established a foundation for its subsequent successes.

Professor CHAN also pointed to the hard work and vision of all the former deans. "I believe that each was driven by a distinct mission suited for that particular stage in the school's development." Examples of this include the curriculum revisions brought in by Professor Sydney CHUNG and the academic inspiration provided by his teacher, friend and former CUHK President, Professor Joseph SUNG. Professor CHAN sees his own mission as guiding CU Medicine into the future from the vantage point of research innovation and talent development, both of which are closely integrated.

Leading the Way with Research
"As medical professionals, our job is to make the world a healthier place. Research enables this by creating new medical possibilities. My passion lies in advancing and sharing medical knowledge that can ultimately help more people." This desire to improve the world of healthcare explains why, on top of his administration and management duties, Professor CHAN insists on being, first and foremost, a doctor.
Despite his extremely busy schedule, he continues to teach medical students and publish his research on gastrointestinal bleeding, cancer prevention, and gut microbiota in prestigious international medical journals. He received the 2018 International Leadership Award from the American College of Gastroenterology. He was conferred an Honorary Doctorate Degree by the Osaka City University in 2018, an honour that only 12 doctorates were awarded in its 138-year history. He is Asia's most published scholar in Aspirin and was named one of the world's foremost experts on this topic in 2019 by the American medical ranking platform ExpertScape. With such leadership, the academic staff in CU Medicine have now earned themselves a well-recognised place on the global stage of medical research.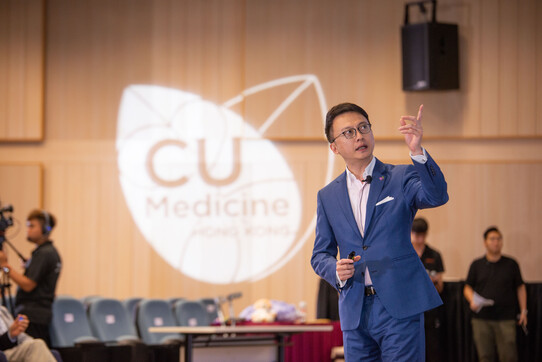 Developing Vision and Character
In order to drive this quest for new knowledge, Professor CHAN pointed out that talent development must be a priority for any medical school. "How do we know if we've been successful in developing people? It is when others can identify CU Medicine graduates by the quality of their work, character, and values. Whether we are training doctors, nurses, or medical research scientists, our principle is to cultivate professionals who always put patients first. This is the core value underpinning our growth as an institution and will continue to guide us as we seek to innovate and expand our boundaries."
Looking forward, Professor CHAN is particularly excited about the potential CU Medicine has in establishing itself as a leader in medical innovation and technologies. "Healthcare and MedTech are quickly gaining traction; the demand and talent growth for both are robust. Provided the focus of our innovation work remains on the needs of patients, we will enable our future medical professionals to make meaningful contributions across the globe in any area of medicine. This is the direction I would love to see CU Medicine take for the next forty years and beyond."