Honing Physician
Leadership Skills with Heart
While students of CUHK's prestigious Global Physician-Leadership Stream (GPS) are often feted for their academic excellence and outstanding resumes, these two young alumni, through their humility, sincerity and empathy, embody the true spirit of the programme.
---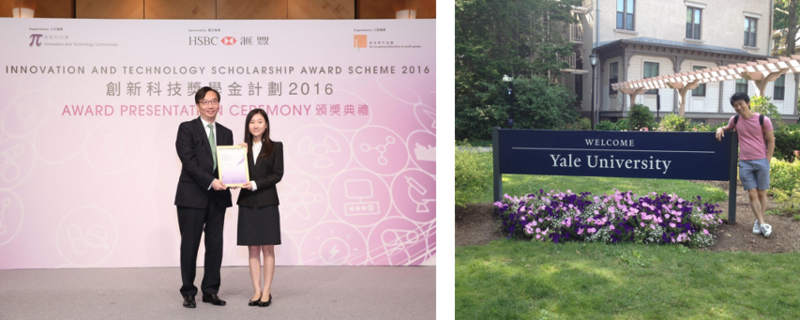 Dr. Charlotte LAU and Dr. Landon CHAN both say they benefited enormously from the workshop opportunities, overseas internships and student exchanges, as well as one-on-one mentorship under GPS.
Dr. CHAN was among the first batch of GPS graduates. "The spirit of GPS is now a part of me. I have deeply imbibed the lessons learnt during the programme - leadership skills, conflict resolution, research and clinical experience," he says.

A key part of the GPS training is mastering people-to-people skills, in particular, how best to communicate with patients and their family, says Dr. LAU. "You need to be understanding and compassionate" she adds. Dr. CHAN agrees: "While conducting scientific and clinical researches are deeply satisfying to me, it is the direct impact that these researches have on patients that matter the most. Ultimately, you need to look at the perspectives of the patients and their families and help them understand the risks and benefits of different treatment options."
Profound experiences
This humanistic approach is evident in the unforgettable memories they share. Dr. LAU's voice trembles as she recalls an incident at the Prince of Wales Hospital. "While I was on call overnight, a patient who was to be discharged the next day, suddenly went into cardiac arrest. Although I was very nervous, the lessons I learnt during GPS workshops helped me stay calm."

Despite the medical team's efforts, the patient did not regain consciousness. The family had decided not to proceed with tracheal intubation or any kind of treatment in the intensive care unit. "I was emotionally affected by what the patient's son said. He explained that his father was a good man and he would have wanted to leave in peace and without pain." The episode taught Dr. LAU the importance of taking the wishes of the patient and family into account when making decisions.
Dr. CHAN, now an oncology resident at Princess Margaret Hospital, has also had many poignant experiences at work. "Many of our patients are already terminally ill so they have to return to the hospital frequently. So I have become a familiar face to the patients' families and eventually, a bond develops between us."

He also recalls a patient from Nepal, whose condition was deteriorating rapidly and who did not want to die in a foreign country. "We helped arrange for oxygen bottles for her flight home and were all so relieved when she eventually made the flight."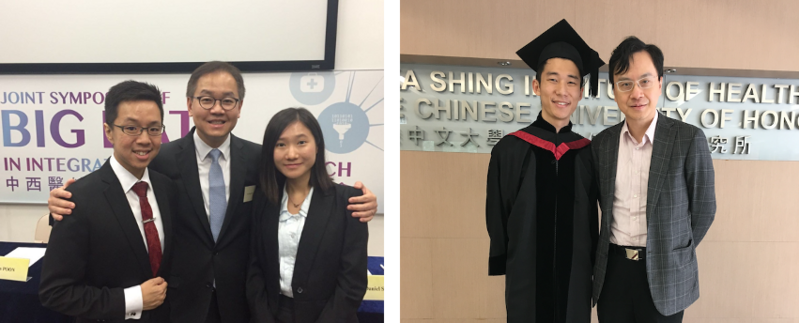 Nurturing mentors, enriching opportunities
As they develop into confident yet empathetic doctors, Dr. LAU and Dr. CHAN are inspired by their mentors.

"I chose Professor Justin WU from the Department of Medicine & Therapeutics as my mentor because I was intrigued by his research on the integration of Chinese and Western medicine. He has been like a father to me," Dr. LAU shares. She also praises other supportive mentors such as Professor Vincent MOK, Assistant Dean (Admissions) and Professor Simon NG, Associate Dean (Student Affairs) and the Director of GPS.
Dr. CHAN says working on a research project supervised by Professor Dennis LO, Associate Dean (Research) and the Director of the Li Ka Shing Institute of Health Sciences, was "an extremely rewarding learning experience" as it introduced him to the highest state- of-the-art research in non-invasive diagnosis. Another mentor was Miss Janet WONG, former Commissioner for Innovation and Technology. "She helped me improve my interpersonal skills and career planning. She has also advised me on other aspects of life - it was a truly holistic mentorship."

Both doctors went abroad after winning the Innovation and Technology Scholarship. Dr. LAU joined a summer exchange programme at the University of Toronto and participated in a research project on integrated medicine. Dr. CHAN went to Yale University and took part in a major bioinformatics project.

GPS's focus on research has inspired Dr. LAU to aim higher after graduation. "I hope to do clinical research in addition to my duties as a doctor."

Dr. CHAN says GPS exposed him to the different aspects of a medical career, including research and administration. He views the programme as a launching pad. "I don't think GPS ends after graduation. If the goal is to reach Mars, we are only just starting our journey."

The profound experiences the two GPS alumni encountered during their medical journey have shed invaluable insights into how to better serve the community as doctors as well as humanitarians. But more importantly, combined with the GPS spirit, they have learnt the true meaning of life.