The Melodies of Our Time |
CU Medicine Alumni and Students to Hold 40th Anniversary Fundraising Musical This December
For 40 years, CU Medicine has been training up some of Hong Kong and the world's most sought-after doctors. This year, these professionals return to the university to celebrate their stories and reconnect with fellow students in grand theatrical fashion. Armed with musical instruments and artistic chops, they take centre stage, this time to refocus the spotlight on their alma mater and to sing of its enduring impact in their lives.
---
The stage is set, the musical scores are ready, and the doctors are in for an evening of reminiscing and theatrical storytelling in the Lee Hysan Concert Hall of CUHK this December. Themed "In Search of Time", the musical special for the Gerald Choa Memorial Fund gathers CU Medicine alumni, faculty, and students to celebrate the different milestones in the life of every CU Medicine graduate over the last 40 years.
Behind the curtain are medical students, past and present, each bringing their unique orchestral talents onstage. We spoke to alumni Dr. Arthur MAK (MBChB 2000), Dr. Bonaventure IP (MBChB 2012), Professor Anthony TEOH (MBChB 2001), and Dr. Amy CHAN (MBChB 1999), who are leading this never-before-seen musical production, on what this exciting 40th-anniversary ensemble means to them, to the whole CU Medicine family, and to the wider community.
A Production for Everyone
"How can we celebrate CU Medicine's 40 years in just one night?" began Dr. MAK, CU Medicine Associate Professor at the Department of Psychiatry.
More than physically bringing fellow alumni together, the pianist and his team envision the audience happily experiencing all the memories of CU Medicine and their years in the medical profession, all over again through music.
"We wanted the show to feature a mix of familiar songs thoughtfully chosen to represent the different stages in our medical careers, all while properly giving tribute to our Faculty's four-decade history," said Dr. MAK. "All the songs will be performed by the greatest singers from our faculty, and delivered with refreshing orchestral arrangements that will guarantee a memorable experience".

As the charity event's orchestra director, Dr. MAK had channeled his musical interests into arranging the whole programme's theatrical score, which will follow every doctor's major life events—from their early challenges to their first small wins, big achievements, family decisions, love, loss, and future dreams.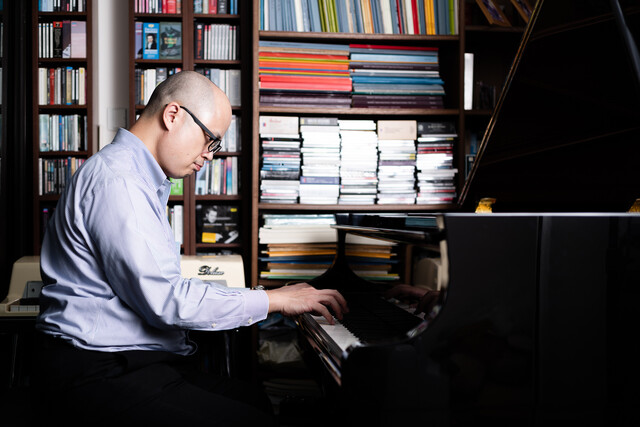 Dr. Arthur MAK (MBChB 2000), Music Director
Event co-producer Professor TEOH, CU Medicine Professor in the Department of Surgery added, "By incorporating multi-era genres in the show—from classical to pop, rock, and contemporary songs—we also hoped to encourage those with different musical talents to join our ambitious yet meaningful production, and let their passion shine."
Orchestrating Harmonies
Remarkably, an overwhelming number of students and alumni have expressed their interest to join the stage since the casting call was opened, with about 40 alumni and students now expected to perform in the December concert.

Reflecting on this enthusiastic response, the programme's drama director, CU Medicine Clinical Associate Professor (honorary) at the Department of Anatomical and Cellular Pathology Dr. CHAN said, "In my time at CU Medicine, there were much fewer fellow performing arts enthusiasts. I am so glad for this precious opportunity to experience the stage again with these eager performers."
The Prince of Wales Hospital pathologist also acknowledged how such relationships do evolve with the passage of time—a subject that largely makes up the concert's theatrical plot.
"While told in stages echoing a doctor's life events, the entire production is designed to allow the audience to feel, imagine, and fully connect with the recollected memories presented onstage. This narrative experience is inspired by the French novel classic, 'In Search of Lost Time', by Mr. Marcel PROUST," added Dr. CHAN.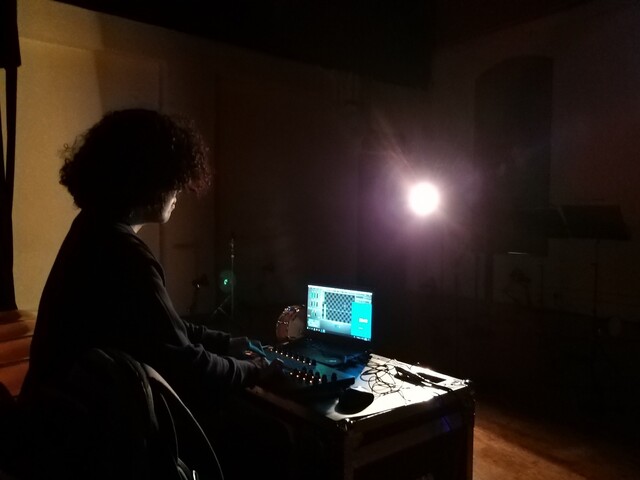 Dr. Amy CHAN (MBChB 1999), Director and Scenography
The director will also be using intermedia lighting elements to complement the production's musical crossovers, bringing added vibrancy to the performance.
As preparations for the concert go on, Dr. IP, CU Medicine Clinical Lecturer at the Department of Medicine and Therapeutics and a skilled guitarist since before his CU Medicine days, finds himself in awe of the musicianship brimming among the CU Medicine community. "Every musician here is very accomplished and there is talent across a wide range of genres," he said.
Giving Back
The three doctors agree that in both cooking and the pursuit of medical knowledge, it is imperative to stay focused on what matters most: people.
Bringing students from different years and backgrounds—and with distinctive musical abilities— together to sing and play in harmony, the event also seeks to unite everyone in the Gerald Choa Memorial Fund's spirit of dedication to nurturing medical students and helping the community.
Dr. MAK said, "Other than giving an enjoyable performance, the concert also aims to raise funds to facilitate scholarships for students in need."

Established in 2013, the Fund, which honours the legacy of CU Medicine founding dean the late Professor Gerald H. CHOA, has been organising activities for the benefit of students, faculty and the whole community.
According to Dr. IP, proceeds from the concert will not only fund scholarships for those with financial needs, but also overseas exchange experiences and projects to serve the community. "Doctors these days must be able to do more than treat illnesses – they must bring a global mindset to the table. Medical students should take every opportunity to learn from foreign public health and medical systems, and equip themselves to contribute to Hong Kong's continued improvement in these areas."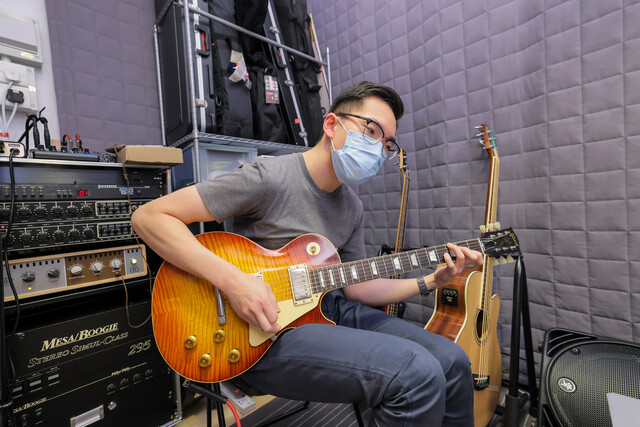 Dr. Bonaventure IP (MBChB 2012), Music Director
While organising for a cause provides more than enough inspiration for the team, completing the musical arrangements had been a challenging process, requiring sound technical proficiency and judgment. From the choice of audio equipment to the placement of songs, the team had to carefully evaluate how to deliver an impactful performance worthy of the time and money involved.
"Because time is a relative concept, the concert should resonate with everyone in one way or another. We needed to assess which memories are best left unspoken, and which ones should be represented by our music. The concert has to include various elements, with songs from different times plotted nicely along the musical score," said Dr. MAK.
Delivering an All-Out Performance, Always
With its own share of upbeats and downbeats, the experience of organising the event itself has been a meaningful journey for everyone involved in the production.
Recalling how they pulled off the seemingly impossible feat of forming a 40-person band, Professor TEOH hinted at the team's "can-do" attitude.
"Sometimes, it takes a crazy amount of faith to achieve something great. All doctors know that," Dr. MAK said.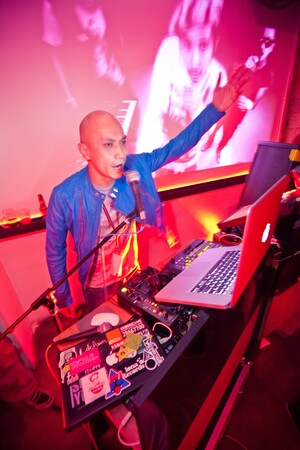 Professor TEOH, who started playing indie music and making videos as a medical student, reflected on his own artistic journey while sharing the newfound joys he encountered from this experience.
"This project has shown me that art is best enjoyed with others. Everyone has something fresh to offer. Rearranging familiar songs with the aim of evoking new feelings among the audience has been an amazing ride," remarked the Professor, who also brought his DJ and rapping expertise to the production
"As we worked on bringing different memorable elements to the performance, we found ourselves aspiring to grow artistically as well," said Dr. CHAN.
Dr. IP hopes that the concert will inspire the audience to reflect on their journeys over the last four decades. Indeed, like the memories the concert will showcase in December, every moment in the CU Medicine graduate's life—then and now—is worth celebrating.
Dr. MAK expressed his appreciation for the university that molded them into the doctors they are today, calling the concert a "gift to CU Medicine and to our schoolmates."
"This concert is a labour of love, a reflection of what our alma mater has meant to us in the last 40 years. I hope that this experience reminds everyone that professional excellence always matters, but it can be a melody easily forgotten if it does not touch the lives of those around us," he said.
For more details about the upcoming CU Medicine Charity Concert, please visit: https://geraldchoa.med.cuhk.edu.hk/charity_concert.