Awardee of the Sir Edward Youde Memorial Scholarship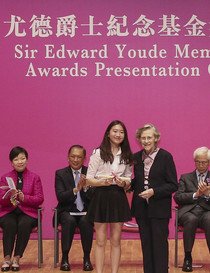 Tiffany YU
I am honoured to receive the Sir Edward Youde Memorial Scholarship. This Scholarship empowers me to accept and create opportunities for others and myself.

I thoroughly enjoyed my service trip to Morocco, conducting research in neuro-oncology and becoming certified in mental health first aid. In September 2018, I joined an eight-week Mindfulness-based Cognitive Therapy course for medical students.

While my experiences remind me that confidence is the key to growth, leadership and service, they also remind me of the equal importance of humility in medicine. As my peers and I continue to explore man's limitations and vulnerabilities in others, I hope to remember to explore the same in myself. I am very thankful for my family, peers, professors and mentors who have supported and helped me stretch into who I am today.