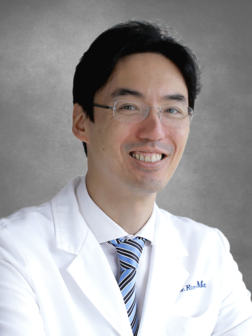 Professor MA Ching Wan, Ronald
Assistant Dean (External Affairs)
S.H. Ho Professor of Diabetes
Professor, Department of Medicine and Therapeutics
CUHK Employment
Assistant Dean (External Affairs), Faculty of Medicine
S.H. Ho Professor of Diabetes
Professor, Department of Medicine and Therapeutics
Head, Division of Endocrinology and Diabetes
Professor (by Courtesy), School of Biomedical Sciences
Co-director, CUHK-SJTU Joint Research Centre in Diabetes Genomics and Precision Medicine
Steering Committee, Hong Kong Institute of Diabetes and Obesity
Expertise
Diabetes
Diabetic complications
Diabetes epidemiology
Endocrine disorders
Education & Qualifications
BA (Cantab), MB BChir (Cantab), MA (Cantab), MRCP (UK), FHKCP, FHKAM (Medicine), FRCP (Edin), FRCP (Lond)
Research Interests
Epidemiology of diabetes
Genetics of diabetes and diabetic complications
Gestational diabetes and intra-uterine programming, epigenetics
Polycystic ovary syndrome
Additional Information
Award & Honour
Outstanding Fellow, of Medicine, The Chinese University of Hong Kong, 2014
Professional Service
Board Member, Asian Association for the Study of Diabetes (AASD)

Member, The Lancet Clinical Commission on Diabetes

Board Member, International Society for Developmental Origins of Health and Disease (DOHaD)

Member, International Federation of Gynaecology and Obstetrics (FIGO) Pregnancy & Non-Communicable Diseases Committee

Panel Member, Hong Kong Hospital Authority Central Committee on Genetic Services

Specialty Board Member of Endocrinology, Diabetes and Metabolism and Council Member, Hong Kong College of Physicians

Member, Committee on Reduction of Salt and Sugar in Food, Food and Health Bureau, Hong Kong

Member, Editorial Board of PLoS Medicine, Obesity Reviews, Nutrition, Metabolism and Cardiovascular Disease (NMCD)
Regional Editor, Diabetic Medicine
Assistant Editor, Journal of Diabetes Investigation
Selected Publications
Ma RC. Epidemiology of Diabetes and Diabetic Complications in China. Diabetologia 2018, Feb 1. doi: 10.1007/s00125-018-4557-7
Tam WH, Ma RC, Ozaki R, Li AM, Chan MHM, Yuen LY, Lao TT, Yang X, Ho CS, Tutino GE, Chan JC. In utero exposure to maternal hyperglycemia increases children's cardiometabolic risk. Diabetes Care 2017, March 9
Nanditha A, Ma RC, Ramachandran A, Snehalatha C, Chan JC, Chia KS, Shaw JE, Zimmet PZ. Diabetes in Asia and the Pacific: Implications for the Global Epidemic. Diabetes Care, 39(3): 472-485
Jiang GZ, Hu C, Tam CH, Lau ES, Wang Y, Luk AO, Yang X, Kong AP, Ho JS, Lam VK, Lee HM, Wang J, Zhang R, Tsui SK, Ng MC, Szeto CC, Jia W, Fan X, So WY, Chan JC, Ma RC. Identification of Predictors for Chronic Kidney Disease in Type 2 Diabetes by incorporating genetic and clinical variables. Kidney Int 2016; 89(2): 411-20.
Tutino GE, Tam WH, Yang X, Chan JC, Lao TT, Ma RC. Diabetes and Pregnancy: Perspectives from Asia. Diabet Med 2014; 31(3): 302-18
Ma RC, Chan JC. Type 2 Diabetes in East Asians: similarities and differences with populations in Europe and the United States. Ann N Y Acad Sci 2013; Apri 1281(1): 64-91
Ma RC, Hu C, Tam CH, Zhang R, Kwan P, Leung TF, Thomas GN, Go MJ, Hara K, Sim X, Ho JS, Wang C, Li H, Lu L, Wang Y, Li JW, Wang Y, Lam VK, Wang J, Yu W, Kim YJ, Ng DP, Fujita H, Panoutsopoulou K, Day-Williams AG, Lee HM, Ng AC, Fang YJ, Kong AP, Jiang F, Ma X, Hou X, Tang S, Lu J, Yamauchi T, Tsui SK, Woo J, Leung PC, Zhang X, Tang NL, Sy HY, Liu J, Wong TY, Lee JY, Maeda S, Xu G, Cherny SS, Chan TF, Ng MC, Xiang K, Morris AP, DIAGRAM Consortium, Keildson S, The MuTHER Consortium, Hu R, Ji L, Lin X, Cho YS, Kadowaki T, Tai ES, Zeggini E, McCarthy MI, Hon KL, Baum L, Tomlinson BT, So WY, Bao Y, Chan JC, Jia W. Genome-side association study in a Chinese population identifies a susceptibility locus for type 2 diabets at 7q2 near Pax4. Diabetologia 2013; 56(6): 1291-305
Ma RC, Liu KH, Lam PM, Cheung LP, Tam WH, Ko GT, Chan MH, Ho CS, Lam CW, Chu WC, Tong PC, So WY, Chan JC, Chow CC. Sonographic measurement of mesenteric fat predicts presence of fatty liver among subjects with polycystic ovary syndrome. J Clin Endocrinol Metab 2011; 96(3): 799-807
Cho YS, Chen C, Hu C, Long J, Ong RT, Sim X, Takeuchi F, Go MJ, Yamauchi T, Chang Y-C, Kwak SH, Ma RC, Yamamoto K, Adair LS, Aung T, Cai Q, Chang LC, Chen Y-T, Gao Y, Hu FB, Kim H-L, Kim S, Kim YJ, Lee JJ, Lee NR, Li Y, Liu JJ, Lu W, Nakamura J, Nakashima E, Ng DP, Tay WT, Tsai F-J, Wong TY, Yokota M, Zheng W, Zhang R, Wang C, So WY, Ohnaka K, Ikegami H, Hara K, Cho YM, Cho NH, Chang T-J, Bao Y, Hedman AK, Morris AP, McCarthy MI, DIAGRAM Consortium, MuTHER consortium, Takayanagi R, Park KS, Jia WP, Chuang LM, Chan JC, Maeda S, Kadowaki T, Lee J-Y, Wu J-Y, Teo YY, Tai ES, Shu XO, Mohlke KL, Kato N, Han B-G, Seielstad M. Meta-analysis of genome-wide association studies identifies 8 new loci for type 2 diabetes in East Asians. Nature Genetics 2011; Dec 11; 44 (1): 67-72 (equal contributions YSC, C, CH, RTO, XS, FT, MJG, TY, YC, SHK, RCM, KY)
Ma RC, Tam CH, Wang Y, Luk AO, Hu C, Yang X, Lam V, Chan AW, Ho JS, Chow CC, Tong PC, Jia W, Ng MC, So WY, Chan JC. Genetic variants of the Protein Kinase C-β1 gene and development of end stage renal disease in patients with type 2 diabetes. JAMA 2010; 304(8): 881-9.