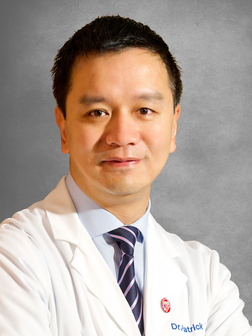 Professor YUNG Shu Hang, Patrick, MH, JP
Assistant Dean (Alumni Affairs)
Chairman, Department of Orthopaedics and Traumatology
CUHK Employment
Assistant Dean (Alumni Affairs), Faculty of Medicine
Chairman, Department of Orthopaedics and Traumatology
Division Head of Postgraduate Studies, Department of Orthopaedics and Traumatology
Director, Hong Kong Centre of Sports Medicine and Sports Science
Director, The Hong Kong Jockey Club Sports Medicine and Health Sciences Centre

Clinical Director, Institute for Tissue Engineering and Regenerative Medicine (iTERM)

Convenor & Member of the SMART theme, Lui Che Woo Institute of Innovative Medicine (LCWIIM)
Expertise
Orthopaedic Sports Medicine
Arthroscopic
Community Sports Health
Education & Qualifications
MBChB (CUHK), FRCS(Edin), FRCS (Edin Ortho Surg), FCSHK, FHKAM (Ortho Surg), FHKCOS

Research Interests
Knee, Shoulder, Ankle & Hip Sports Injuries
Sports Medicine
Additional information
Award & Honour
Honorary Fellow, Academy of Medicine, Singapore
Honorary Fellow, Academy of Medicine, Malaysia
Hong Kong Health Award, 2018
Golden Cradle Award, Hong Kong Elite Athletes Association, 2018
Takagi & Watanabe Award, Asia Pacific Knee Arthroscopy & Sports Medicine Society, 2018
Chinese Sports Medicine Magnolia Award, 2017
Award of Secretary for Home Affairs' Commendation Scheme,

The Government of HKSAR

, 2015
FIMS Fellowship, 2011
Ten Outstanding Young Persons of Hong Kong, 2009
Professional Service
Immediate Past President, Hong Kong Association of Sports Medicine and Sports Science (HKASMSS)
Immediate Past President, Asian Federation of Sports Medicine (AFSM)
Chief Editor, Asia-Pacific Journal of Sports Medicine, Arthroscopy, Rehabilitation and Technology (AP-SMART)
Elite Anti-Doping & Medical Panel, Asian Football Federation

Member, Supplementary Medical Professional Council, The Government of HKSAR

Member, Examination Sub-Committee, Licentiate Committee of the Medical Council of Hong Kong

Chairman, Medical Committee, Hong Kong Football Association

Chairman, Quality Assurance Committee, Racing Development Board, Hong Kong Jockey Club Apprentice Jockeys' School
Board Member, International Federation of Sports Medicine
Secretary General, Asia Pacific Knee Arthroscopy & Sports Medicine Society (APKASS)
Academic Engagement in CUHK
Chairman, Teaching Committee, Bachelor of Medicine and Bachelor of Surgery (MBChB) Programme
Programme Director, MSc in Sports Medicine and Health Sciences (MSc SMHS)
Member, Biomedical Engineering Programme Advisory Committee
Brief CV
Selected Publications

Ko VMC, Lau NN, Qiu JH, Fu SC, Yung PSH, Ling SKK (2022). Cross-Cultural Adaptation of Chinese Victorian Institute of Sports Assessment-Achilles (VISA-A) Questionnaire for Achilles Tendinopathy. Foot & Ankle Orthopaedics. 7(1):24730114221081535.
Wong AYY, Man GCW, Wu YM, Wong HW, Ong MTY, Yung PSH (2022). Risk of surgery and epidemiological profile of athletes presenting to a single sports injury clinic in Hong Kong. Journal of Orthopaedics, Trauma and Rehabilitation. 29:1-10.
Wong CK, Man GCW, He X, Ng JP, Ng AWH, Ong MTY, Yung PSH (2022). Large lateral tibial slope and lateral-to-medial slope difference are risk factors for poorer clinical outcomes after posterolateral meniscus root tear repair in anterior cruciate ligament reconstruction. BMC Musculoskeletal Disorders. 23:247.
He X, Qiu JH, Cao MD, Ho YC, Leong HT, Fu SC, Ong MTY, Fong DTP, Yung PSH (2022). Deficits in muscle strength, passive muscle stiffness and muscle activation of the quadriceps and hamstrings affect single leg hop performance and dynamic knee stability in patients after Anterior Cruciate Ligament. The Orthopaedic Journal of Sports Medicine. 10(1):23259671211063893.
Mok KM, Ha SCW, Chan ZYS, Yung PSH, Fong DTP (2021). An inverted ankle joint orientation at foot strike could incite ankle inversion sprain: Comparison between injury and non-injured cutting motions of a tennis player. The Foot. 101853.
Fong DTP, Ko JKL, Yung PSH (2021). Using fast fourier transform and polynomial fitting on dorsal foot kinematics data to identify simulated ankle sprain motions from common sporting motions. Journal of Mechanics in Medicine in Biology. 21(4):2150040.
Huang WH, Ong MTY, Man GCW, Liu Y, Lau LCM, Yung PSH (2021). Posterior Tibial Loading Results in Significant Increase of Peak Contact Pressure in the Patellofemoral Joint During Anteriior Cruciate Ligament Reconstruction: A Cadaveric Study. The American Journal of Sports Medicine. 49(5): 1286-1295.
He X, Huang WY, Leong HT, Qiu JH, Ma CC, Fu SC, Ong MTY, Yung PSH (2021). Decreased passive muscle stiffness of vastus medialis is associated with poorer quadriceps strength and knee function after anterior cruciate ligament reconstruction. Clinical Biomechanics. 82(12):105289.
Wong AYY, Ling SKK, Louie L, Law GYK, So RCH, Lee DCW, Yau FCF, Yung PSH (2020). Impact of the COVID-19 pandemic on sports and exercise. Asia-Pacific Journal of Sports Medicine, Arthroscopy, Rehabilitation and Technology. 22(10):39-44.
Qiu J, He X, Fu SC, Ong MTY, Leong HT, Yung PSH (2020). Is Pre-operative Quadriceps Strength a Predictive Factor for the Outcomes of Anterior Cruciate Ligament Reconstructions. International Journal of Sports Medicine. 41:912-920 June 2020.