Pioneering a Partnership Approach
to Healthcare in Hong Kong
Open up the mountains, open up the land, our sacred work is to pioneer." This one-liner from the CUHK Student Union song has inspired generations of young scholars to strive for new heights of achievement. Professor Justin WU, Chief Operating Officer of the CUHK Medical Centre (CUHKMC), says the lyrics perfectly encapsulate the pioneering spirit which he, and the CUHKMC as a whole, embody.
---
The Centre will break new ground in Hong Kong's medical history by exploring essential elements between private and public healthcare sectors. Using cutting- edge technology to provide high-quality, one-stop, affordable and transparent medical services, CUHKMC aims at becoming a leading academic medical centre in the region.
When Professor WU was offered the position of Chief Operating Officer, he jumped at the chance. He had longed to be one of the "pioneers" of this trailblazing project. However, even though he stepped down from his post as associate dean of the Faculty of Medicine of CUHK, he is still continuing with his teaching and active clinical practice, including weekly clinic sessions in Prince of Wales Hospital. "I am grateful for these tasks as they remind me I am still a teacher as well as a clinician," he says. "Through these opportunities, I can have a deeper understanding of the needs of patients and public hospitals, and the difficulties they face."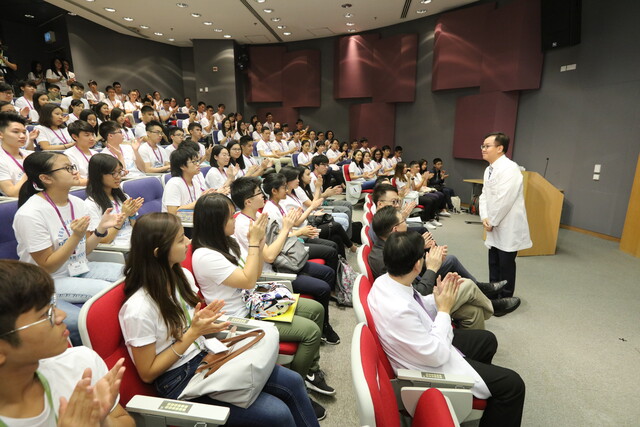 As Hong Kong's population ages and the incidence of chronic diseases rises, the demand for healthcare has increased exponentially. At the same time, the growing complexity of medical care has led to the increase in the cost of medical services. This has resulted in many people flocking to public hospitals, putting them under severe strain and increasing the waiting times for non- urgent medical services.

"As the queues get longer and longer, you can see the heavy pressure on the hospitals," Professor WU says. "This situation has become my driving force, inspiring me to think about how to use the CUHKMC model to try to solve the problems."

CUHKMC meticulously-designed fixed price package services will "give people peace of mind when seeking medical care" through price certainty and transparency, Professor WU explains. In addition to boasting state-of-the-art technology, the hospital is also designed to best serve the needs of all users – patients, visitors and staff. In particular, detailed attention has been geared towards enhancing patient experience such as streamlining services to eliminate unnecessary waiting time and transfers.
Health companion of Hong Kong people
Professor WU has watched CUHKMC grow and blossom over the years from its initial construction on a rugged piece of land to a fully-equipped building which is due to start trial operations in early 2021.

A complete range of medical services, on a larger scale, is expected by the middle of the year.
Whenever Professor WU passes by the sleek and modern hospital building with its clear glass curtain wall, he would smile and ask himself: "If I were a patient or when I grow older and am retired, what would I expect from this hospital? I would definitely wish for it, not just to treat illnesses, but to become a partner in managing my health, teaching me and helping me take good care of my body."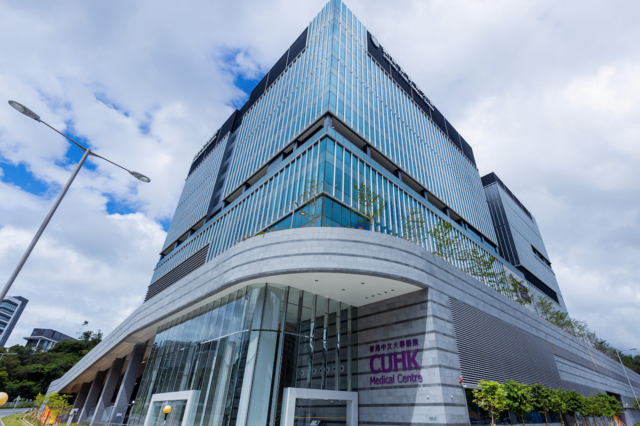 "Apart from providing medical services, CUHKMC also hopes to promote personalised wellness programmes, raise public health awareness and improve population health. Do not wait to see a doctor until you are sick. Instead, start with your lifestyle and eating habits. Take care of your health as soon as possible," he emphasises.

He believes this will help people identify and manage the suboptimal health or disease at the earlier stage, which will, in turn, reduce medical expenses and alleviate the pressure on overall medical services.

Forging kinships with Faculty of Medicine
As the first private teaching hospital in Hong Kong, CUHKMC enjoys a close partnership with CUHK's Faculty of Medicine. "CUHKMC's philosophy and services are closely linked to the Faculty. Apart from providing medical services to the public, CUHKMC also shoulders the mission of education and research," Professor WU explains.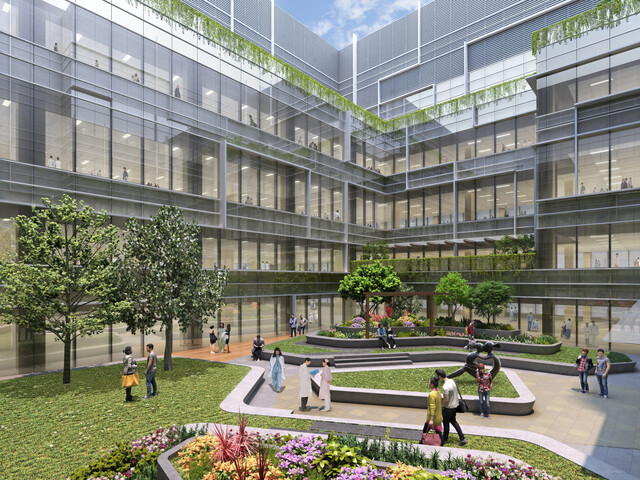 In terms of nurturing the next generation, Professor WU stresses: "We have the most advanced research and technology, which will now be at the service of the public. CUHKMC is also a teaching platform, which offers medical students learning opportunities that are completely different from those in public hospitals. Here, students will gain a deeper understanding of the importance of 'patient-centred' care, which will be of immense help in their future careers."

On the research front, the CUHKMC model will be used to connect Hong Kong with medical innovators worldwide to introduce new technologies for the benefit of patients. "For example, CUHKMC can use CUHK's 'faecal microbiota transplantation' technology to treat gastrointestinal patients," he says. "The academic excellence of the Faculty of Medicine's renowned disciplines, such as cancer, sports medicine, diabetes and endocrinology, can be translated into patient benefits."

Strong support from alumni network

Given that CUHKMC is an innovative concept for Hong Kong in that it is a not-for-profit private teaching hospital operating on a commercial model, various stakeholders – citizens, the government, the medical community and alumni – have high expectations.

"Dealing with everyone's expectations and seeking common ground are extremely important," Professor WU says. "I have done a lot of communication work because setting up a hospital is by no means easy. There are many challenges at every stage."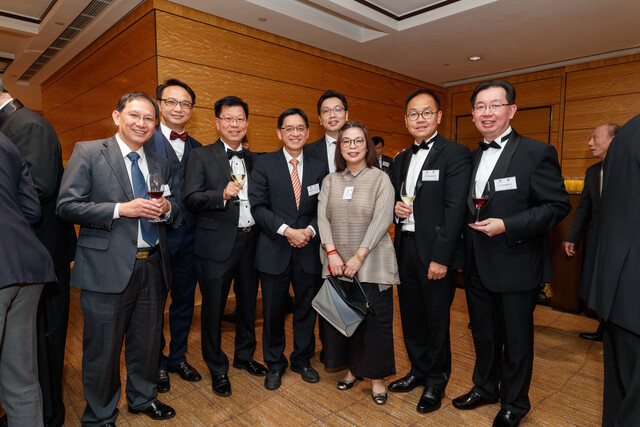 He has been liaising actively with various stakeholders, especially alumni who work in the private sector. "I teach at CUHK's Faculty of Medicine and, though I have private practice sessions under university regulations, I really can't say that I have extensive experience in providing private medical services. I am very grateful for our alumni's resourcefulness and generosity in sharing with me their valuable operational experiences in the private healthcare sector."

In the process of setting up CUHKMC, Professor WU has reconnected with senior alumni, his former classmates and former students. "I have now become their student," he muses, He says alumni working in the private sector have offered guidance and advice on fixed-fee packages and have stressed the importance of diversity and flexibility.

Through his interactions with them, Professor WU acknowledges the difference between the public and private medical sectors. "For example, if imaging examinations are arranged within a week in public hospitals, it's already considered very fast, but in private hospitals, patients expect to get this done the next day."

While benefiting profoundly from the advice of CUHK alumni, Professor WU hopes to build on the robust bonds he has established and further strengthen cooperation.

He is firmly convinced that the Centre will provide alumni with excellent opportunities for professional and career development.

Space for healing

Apart from forming a medical team and establishing a close collaborative relationship with the CUHK Faculty of Medicine, Professor WU has also been involved in business developments and has connections with commercial institutions.

"Since graduation, I have been serving in public hospitals. I have been teaching and researching at the university for over 10 years. Now I have established relationships with business partners or alumni serving in the private medical sector and have been involved in many business discussions. This sometimes makes me feel like a 'businessman', but at heart, I am still a teacher and a doctor."

Thus, it is not surprising that when asked to name his favourite part of the Centre, Professor WU smiles shyly: "As a gastroenterologist, I would have to say the endoscopy centre. It is of very high standard and the place is spacious."

He believes that the Centre's prime location – close to Tolo Harbour and overlooking Ma On Shan and Pat Sin Leng – is a key asset. "Many of the rooms have open sea views. This will improve patients' moods and promote healing."

Professor WU says he is looking forward to CUHKMC's next milestone when it finally opens its doors to patients and begins serving the Hong Kong community. He is confident that, through the efforts of its dedicated team of pioneers and the support of the wider community, CUHKMC will become a proud brand in the minds of every Hong Kong person.