Faculty Education

Award 2022

Dr. Christopher SEE
The core of my work is building a 'virtual lab' for educational research and innovation, where medical students are full contributors to the research and development process. Therefore, 'my' achievements are actually 'our' achievements: student lab members have produced 4 first author journal papers, 5 conference presentations and received 3 research awards in medical education.
Our work includes the development of Artificial Intelligence (AI) educational tools of increasing sophistication such as AI conversation agents. We have developed a crowdsourcing teaching framework to produce e-learning resources for anatomy, and scholarly works on peer-led teaching, online learning challenges and medical education culture in Hong Kong. We develop new teaching material for curricula including the emergent interdisciplinary subjects AI and Blockchain for Healthcare. These outputs have received the Gold Award for Pedagogical Innovation at CUHK and the Exemplary Teaching and Learning award by eLFA in 2021, and are kindly supported by over 3.1 million HKD in teaching-related grant funding.
Working with students, I come to realise that their brilliance and innovativeness is far beyond my own. With such limits in mind, I try to look beyond my own simple ideas and contribute together to a constantly improving medical school curriculum.
As I emphasise to my students, I was not a genius unlike many of my peers at medical school. My success was in large part down to kind, engaged teachers who lit a fire of curiosity in me about all aspects of the human body and its diseases. The journey to being a doctor is not at all easy; my motivation is not to make it easy, but rather to make the learning process irresistibly engaging.

I am still rather junior in my teaching career, and a critical factor in my work is the support from all levels of CU medicine from the top leadership down to my co-workers. I am kindly gifted the freedom to innovate and improve, whilst always being accountable to maintain teaching of the highest standard. Of utmost importance, I'm surrounded by role models of teaching excellence which in turn inspires and drives my own work.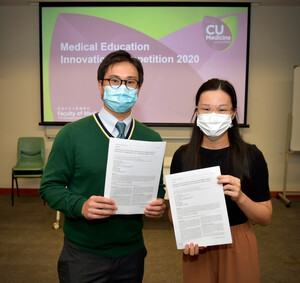 My first educational publication at CU medicine was with GPS student Tong Hei Ka, Anson, which was a scholarly examination of peer-led learning. The publication itself was a happy event and a celebration, but the process was what stood out to me most. I learned an incredible amount from Anson as we discussed the ideas, with countless meetings, drafts and indeed 186 changes in the peer-review process. This paper underlined to me what I already believed; that student-teacher partnership in educational research and development would be the key to making real improvements in teaching. That realisation has influenced my work going forward to this day.