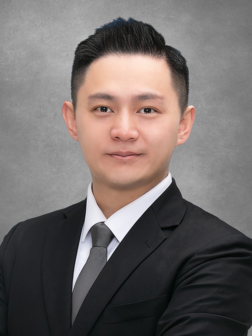 Dr. TEOH Yuen Chun, Jeremy
Assistant Dean (External Affairs)
Assistant Professor, Department of Surgery
CUHK Employment
Assistant Dean (External Affairs), Faculty of Medicine
Assistant Professor, S.H. Ho Urology Centre, Department of Surgery
Expertise
Urological Cancer

Endoscopic Surgery

Minimally Invasive Surgery

Robotic Surgery
Education & Qualifications
MBBS, FRCSEd (Urol), FCSHK, FHKAM (Surgery)
Research Interests
Urinary Biomarkers for Bladder Cancer

Tumour Heterogeneity and Molecular Classification of Bladder Cancer

Transurethral En Bloc Resection of Bladder Tumour

Androgen Deprivation Therapy for Prostate Cancer

Advanced Robotic Surgery for Urological Cancers
Additional Information

Award and Honour
Innovation Award, The Annual BJUI Social Media Awards, BJU International, 2019

UAA-Youth Section Fellowship, Urological Association of Asia, 2017

Silver Medal, Best Original Research by Trainees (BORT), Hong Kong Academy of Medicine, 2015

Bronze Medal, Best Original Research by Trainees (BORT), Hong Kong Academy of Medicine, 2014
Professional Service
Member, Committee on Promotion of Organ Donation, HKSAR

Council Member, Hong Kong Society of Transplantation

Director, Lions Kidney Educational Centre & Research Foundation

Chairperson, Younger Fellows Chapter, College of Surgeons of Hong Kong

Vice-Chair, Young Fellows Chapter, Hong Kong Academy of Medicine

Faculty, Asian Urological Surgery Training & Education Group

Member, European Association of Urology Young Academic Urologists, Urothelial Cancer Working Party

Committee Member, SIU Innovators

Social Media Editor, SIU Journal & Hong Kong Medical Journal

Editorial Board Member, Surgical Practice
Academic Engagement in CUHK
Mentor, Global Physician Stream (GPS) Mentorship Scheme, Faculty of Medicine

Member, Committee on Staffing and Budget, CW Chu College

Member, Committee on General Education, CW Chu College

Member, Committee on College Life, CW Chu College

Member, Committee on Student Affairs, CW Chu College

Executive Committee Member, Gender Research Centre
Selected Publications

Teoh JY, Huang J, Ko WY, Lok V, Choi P, Ng CF, et al. Global Trends of Bladder Cancer Incidence and Mortality, and Their Associations with Tobacco Use and Gross Domestic Product Per Capita. Eur Urol. 2020.
Teoh JY, MacLennan S, Chan VW, Miki J, Lee HY, Chiong E, et al. An International Collaborative Consensus Statement on En Bloc Resection of Bladder Tumour Incorporating Two Systematic Reviews, a Two-round Delphi Survey, and a Consensus Meeting. Eur Urol. 2020;78:546-69.
Teoh JY, Ong WLK, Gonzalez-Padilla D, Castellani D, Dubin JM, Esperto F, et al. A Global Survey on the Impact of COVID-19 on Urological Services. Eur Urol. 2020;78:265-75.
Rodriguez Socarras M, Loeb S, Teoh JY, Ribal MJ, Bloemberg J, Catto J, et al. Telemedicine and Smart Working: Recommendations of the European Association of Urology. Eur Urol. 2020.
Wang G, Choi K, Teoh JY, Lu J. Deep Cross-Output Knowledge Transfer Using Stacked-Structure Least-Squares Support Vector Machines. IEEE Transactions on Cybernetics. 2020:1-14.
Wong SH, Teoh JYC, Leung CH, Wu WKK, Yip BHK, Wong MCS, et al. COVID-19 and Public Interest in Face Mask Use. Am J Respir Crit Care Med. 2020;202:453-5.
Fankhauser CD, Teoh JY, Mostafid H. Treatment options and results of adjuvant treatment in nonmuscle-invasive bladder cancer (NMIBC) during the Bacillus Calmette-Guerin shortage. Curr Opin Urol. 2020;30:365-9.
Teoh JY, Leung CH, Wang MH, Chiu PK, Yee CH, Ng CF, et al. The cost-effectiveness of prostate health index for prostate cancer detection in Chinese men. Prostate Cancer Prostatic Dis. 2020.
Chan VW, Chiu PK, Yee CH, Yuan Y, Ng CF, Teoh JY. A systematic review on COVID-19: urological manifestations, viral RNA detection and special considerations in urological conditions. World J Urol. 2020.
Teoh JY, Mackenzie G, Smith M, Yuen SK, Gudaru K, Leow JJ, et al. Understanding the Composition of a Successful Tweet in Urology. Eur Urol Focus. 2020;6:450-7.