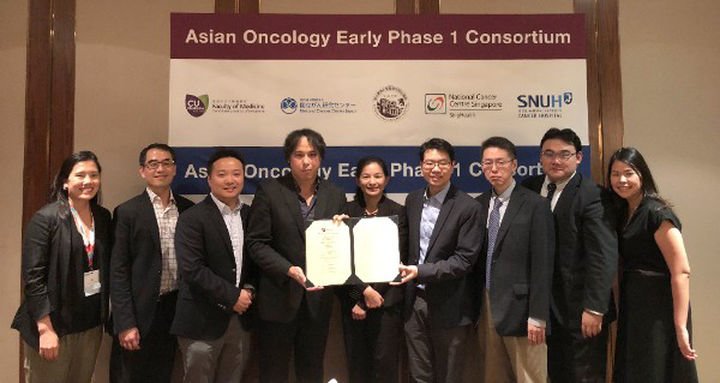 Establishment Of Asian Oncology Early Phase 1 Consortium
We are excited to join hands with five experienced early phase new drug development institutions in the formation of the Asian Oncology Early Phase 1 Consortium. Following the signing of a Memorandum of Understanding (MOU) earlier between The Chinese University of Hong Kong, National Cancer Center Japan, National Cancer Center Singapore, National Taiwan University Hospital and Seoul National University Hospital, a meeting ensued on 19 November, where members convened to discuss specific plans for implementing phase 1 clinical trials starting in early 2018, and future strategies.
The aim of the Consortium is to promote collaborative drug development with a specific Asian focus, which includes Asian specific cancers and therapeutics suitable for Asian populations. By conducting multi-centre phase 1 clinical trials between the five institutions, we hope to increase the awareness and interests of developmental therapeutics in oncology in the Asia-Pacific region. With education and professional training also being key to this partnership, we look forward to sharing projects and other developments with you in the near future.

Our Phase 1 Clinical Trial Centre provides a platform with state-of-the-art infrastructure and a pool of research experts for both industry and academia to conduct early phase clinical research. Anyone interested in future collaboration in this field of research is welcome to contact Dr. Herbert Loong, Deputy Medical Director.