Global trends of Hodgkin lymphoma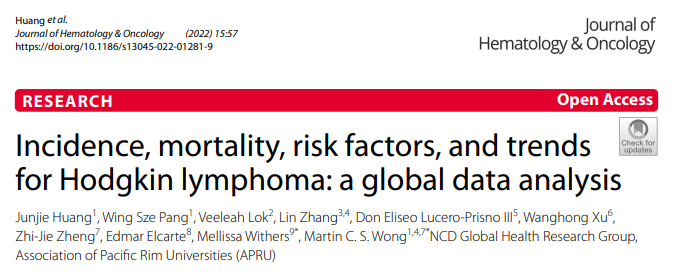 The incidence of Hodgkin lymphoma has been rising globally in the past decade, and particularly in Asia. In order to understand the most recent global incidence and mortality of this disease and to identify high-risk population groups, the research team has conducted a survey with the Association of Pacific Rim Universities (APRU). Results showed that Southern Europe had the highest incidence of Hodgkin lymphoma while the highest mortality rate was noted in West Asia. Moreover, the disease burden was proportional to the per capita GDP and the prevalence of smoking, obesity and hypertension. This implies that a country or region with a higher level of these risk factors will have higher morbidity and mortality.
Anyone interested in future collaboration in this field of research is welcome to contact our key investigator Prof. Martin WONG from the Jockey Club School of Public Health and Primary Care, CUHK. Prof. Wong's research focuses on disease screening and prevention, control of non-communicable diseases and organisation of primary care.