Large scale study on the effects of urbanization on IBD incidence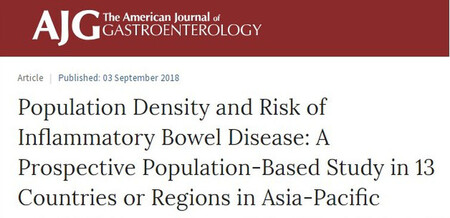 As the increase in inflammatory bowel diseases globally is believed to be associated with the industrialization of nations, this large-scale study on "Population Density and Risk of Inflammatory Bowel Disease: A Prospective Population-Based Study in 13 Countries or Regions in Asia-Pacific" aims to determine the effects of urbanization on disease incidence. Through data collected from 25 centers, 20 areas, and 13 countries or regions in Asia, it finds that a higher population density was associated with an increased incidence of Crohn's disease and ulcerative colitis. With increasing urbanization and a shift from rural areas to cities, disease incidence may continue to climb in Asia (Am J Gastroenterol. 2018 Sep 3. doi: 10.1038/s41395-018-0233-2. [Epub ahead of print]).

Anyone interested in future collaboration in this field of research is welcome to contact our key investigator, Prof Siew Ng of our Department of Medicine and Therapeutics. Prof Ng is an international expert in the study of inflammatory bowel diseases. Her research interests focus on epidemiological, genetics and microbiota studies of the diseases.
Read the full article

More about research at CU Medicine: https://research.med.cuhk.edu.hk