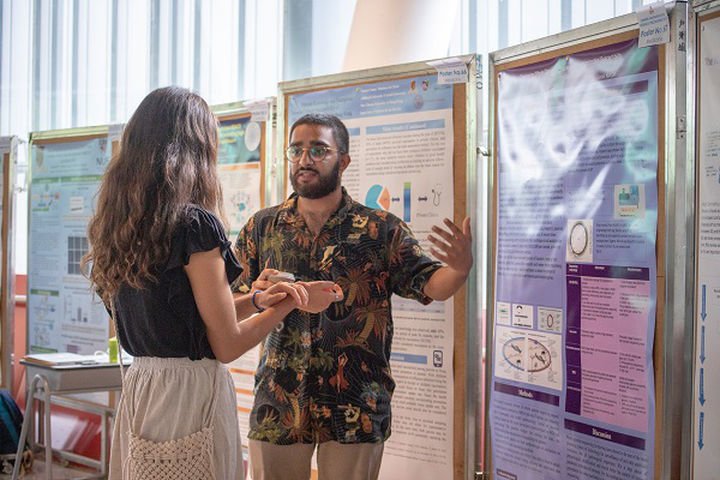 University of Sussex Students join our Summer Undergraduate Research Programme
We are happy to share with you news about two students from University of Sussex who spent the summer with us at The Chinese University of Hong Kong. Both students, Rushi Vyas and Niama Ezzaidi, joined our Summer Undergraduate Research Programme (SURP) and were with us for a 2 months period.

Under the supervision of Prof Kin-on Kwok of our School of Public Health and Primary Care, Rushi worked on a project on "Tackling Antimicrobial Resistance with Multidisciplinary Thinking in Infectious Disease Epidemiology in Hong Kong". This allowed him to further develop his interest in genetics and antibiotics.

As a first timer in Hong Kong, he enjoyed the mix of a big city close to the mountains and took the time to go hiking while also enjoying the famous street food. Living on our campus, which is the largest and greenest in Hong Kong, let him escape from the overwhelming cityscape of sky-high buildings.
"Prof Kwok is at the top of things and gives very clear instructions. Everything and everyone is so efficient here, I love watching the local life and visiting the markets. I have definitely enjoyed my time here and the programme."
For her part, Niama was supervised by Prof Jun Yu of our Department of Medicine and Therapeutics. She worked in the lab on fatty liver diseases and spent much time with our PhDs and seasoned researchers, which helped her confirm her interest in research work.

Being in Asia for the first time, Niama grabbed onto the opportunities to explore the city of Hong Kong by joining the island tour and city tours organized by the programme.
"I really liked being able to work independently and still having my teammates around to ask questions whenever I needed to. I enjoyed working on the research project and would love to work on drug discoveries in the future."
SURP is an eight-week attachment programme that aims at providing international undergraduate students the opportunity to develop research skills and knowledge while working alongside experts in the field. Students get to enjoy cultural tours to explore the city, attend research talks to expand their horizons, and wrap up their attachment with a poster sharing session.