Visiting professor from LMU Munich
We recently had the pleasure of welcoming Dr Ingrid Krüger-Stollfuss of LMU Munich Paediatric Radiology during her visit to our Department of Imaging and Interventional Radiology at The Chinese University of Hong Kong. The visit was supported by the CUHK ​Internationalisation Faculty Mobility Scheme and the LMU-CUHK Funding Scheme, which enourage academic collaboration between faculty members from our two universities.

Hosted by Prof Winnie Chu, the week long visit included peadiatric sessions in ultrasound, radiology, CT, MRI and fluoroscopy, as well as lecture sharings. Dr Kruger also got to participate in "The 3rd Asian Central Nervous System Germ Cell Tumor Conference" hosted by CUHK, for updates on advances in paediatric neuro-oncology and neuro-rehabilitation.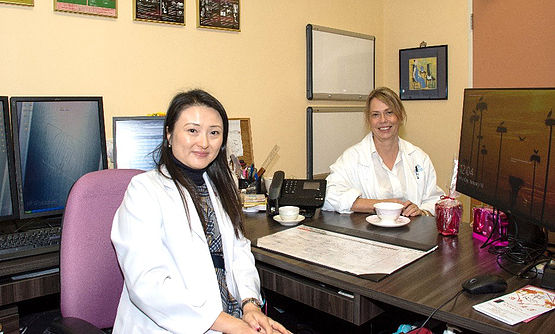 We believe such academic exchanges to be beneficial in strengthening our partnership through knowledge transfer and idea sharing, and we look forward to future plans that may ensue following this visit.

For more information about our CUHK-LMU partnership and staff mobility opportunities, visit https://www.med-cuhk-lmu.net/staff-exchange.