A potential biomarker to predict cardiovascular disease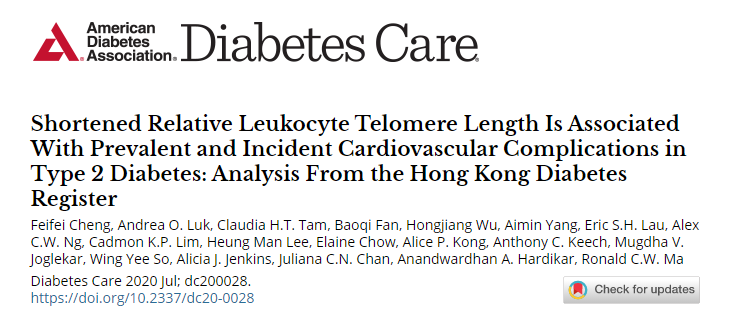 Previous studies have shown that nearly 15% of patients with type 2 diabetes already had a diagnosis of cardiovascular disease (CVD) at baseline. Therefore, it is important to establish a biomarker in predicting diabetes-related complications among these patients. Relative leukocyte telomere length (rLTL), the biomarker of biological aging, has been associated with prevalent diabetes and CVD. However, its relationship with incident CVD in patients with type 2 diabetes has not been examined thoroughly. In the study, it observed that rLTL was shorter in Chinese patients with type 2 diabetes and CVD. This biomarker could be used to predict CVD risk in patients with type 2 diabetes after further studies and validations in other populations.
Anyone interested in future collaboration in this field of research is welcome to contact our key investigator Prof Ronald MA in the Department of Medicine and Therapeutics, CUHK. Prof Ma's research focuses on epidemiology of diabetes, genetics of diabetes and diabetic complications, gestational diabetes and intra-uterine programming, epigenetics and polycystic ovary syndrome.