CUHK and Hong Kong Association of Careers Masters and Guidance Masters Survey Shows Concerns about Hong Kong Students Suffering from Irritable Bowel Syndrome
Irritable Bowel Syndrome (IBS) is a common functional gastrointestinal disorder characterised by a group of symptoms, including abdominal pain, constipation or diarrhoea, bloating, and abdominal distension. It is proven that IBS is associated with stress and emotions. As the COVID-19 pandemic continues, people are facing greater stress from family, work, the economy, and society, which may lead to IBS. To learn more about how the external factors have affected the psychological well-being and digestive health of Hong Kong students, the Faculty of Medicine at The Chinese University of Hong Kong (CU Medicine), in cooperation with the Hong Kong Association of Careers Masters and Guidance Masters, has commissioned a survey on the digestive health and emotional health of Hong Kong students and their parents. The survey results revealed that both of them suffered from IBS symptoms, which is cause for concern. Respondents with moderate to severe IBS symptoms also showed a higher level of depression and anxiety. Experts remind us that gastrointestinal distress can be a signal of mental and emotional health problems. If the symptoms continue or affect daily activities, patients should seek medical consultation and manage the disease through medication, changing lifestyle and emotion regulation.
Finding #1: Nearly 25% of students and over 10% of parents interviewed were having IBS symptoms
According to a previous study, about 6.6% of the Hong Kong population was diagnosed with IBS.[1] IBS can be classified into four types, including IBS with diarrhoea (IBS-D), IBS with constipation (IBS-C), IBS with mixed bowel habits (IBS-M) and the unclassified subtype. The type of IBS that a patient has may change over time. Since the IBS symptoms resemble other gastrointestinal diseases, it is not easy for patients to differentiate and that will result in delays in treatment and exacerbation of the illness. For IBS patients, their symptoms such as abdominal pain, constipation or diarrhoea continue and, as a result, their daily activities are affected.
To understand how the external factors have affected the psychological well-being and digestive health of Hong Kong students, CU Medicine and the Hong Kong Association of Careers Masters and Guidance Masters commissioned the Hong Kong Institute of Asia Pacific Studies of CUHK to carry out a survey in April 2021. 20 secondary schools across 18 districts in Hong Kong were invited to take part in the study, and eventually 232 parents and 324 students ranged from secondary 3 to 6 from 7 secondary schools participated. The survey results showed that nearly 25% of students and over 10% of parents were having moderate to severe IBS symptoms, such as abdominal pain, bloating and diarrhoea, which may affect their ability to learn, to work and to take part in social activities and as a result, significantly undermine their quality of life.
Finding #2: High relevance between digestive distress and emotion
Almost 50% (48.9%) of students and over 20% (23.5%) of parents interviewed were showing mild to severe depression symptoms, while over 40% (40.3%) of students and over 20% (22.6%) of parents were showing mild to severe anxiety symptoms. Employed in the survey were Patient Health Questionnaire 9 (PHQ-9) and Generalised Anxiety Disorder 7 (GAD-7), which are assessment instruments widely used to screen for the presence and measure the severity of depression and anxiety respectively. Respondents with moderate to severe IBS symptoms obtain higher scores in PHQ-9 and GAD-7.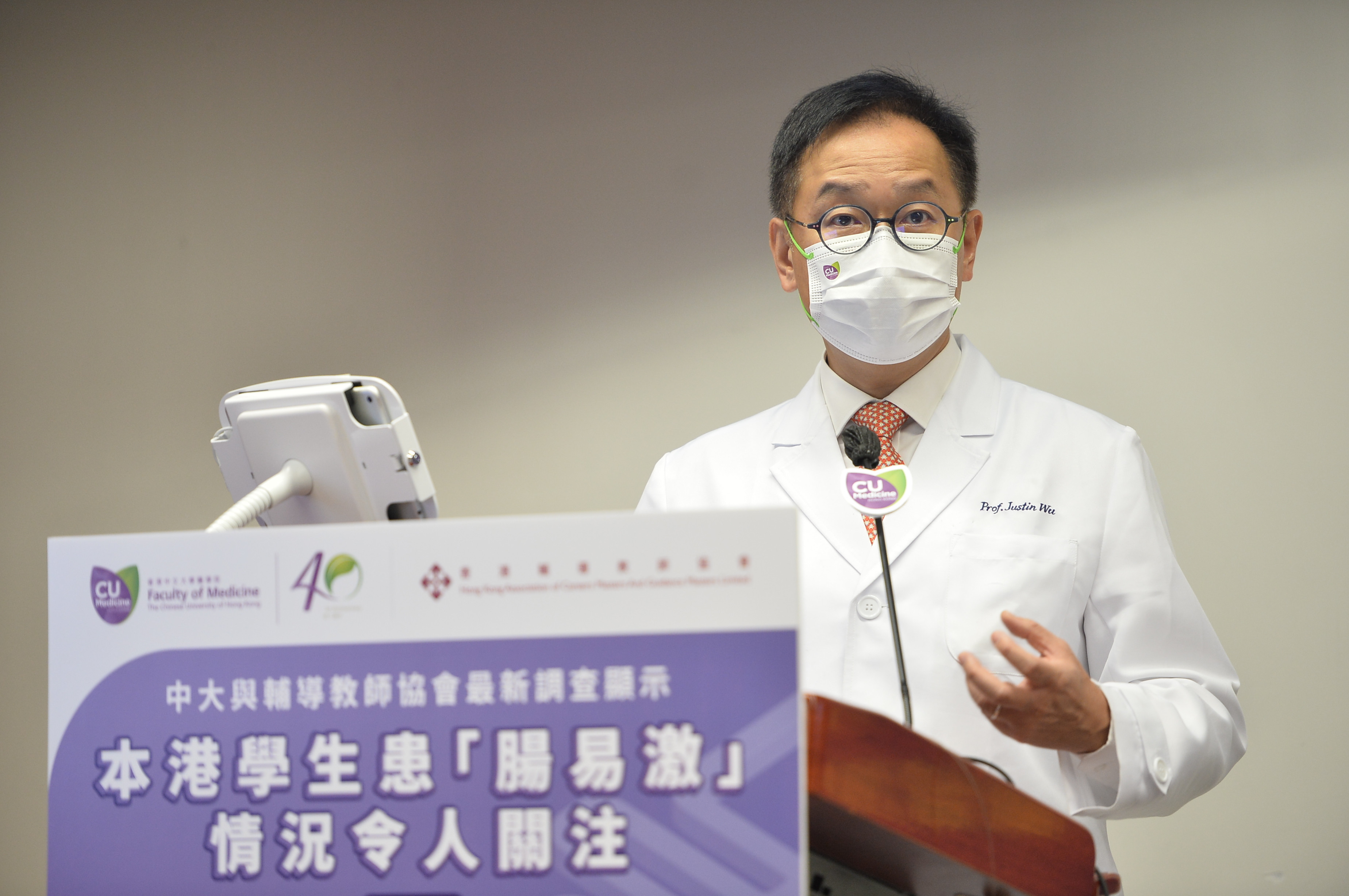 Professor Justin Che Yuen WU, Division of Gastroenterology and Hepatology, Department of Medicine and Therapeutics, CU Medicine, showed concerns about the problem of Hong Kong students and their parents suffering from IBS symptoms as found in the survey. He said, "Serotonin in the brain affects our mood and gut. People with symptoms of stomach disorders, IBS, or bowel diseases will also have a higher risk of depression and anxiety, and vice versa." The gut is sometimes being described as "the second brain", and it is proven medically and statistically that gastrointestinal distress is the alarm of emotional health. It could happen at the adolescent stage. Therefore, Professor WU suggested that students and their parents should be alert to gastrointestinal distress as it could be a signal of mental and emotional health problems.
Finding #3: Parents and children influence each other
Ms. Yawen CHAN, Clinical Psychologist, Hong Kong Institute of Integrative Medicine, CU Medicine, highlighted that respondents from the same family share similar symptoms of IBS and emotional problems. From 215 parent-child pairs identified from the survey, statistical test results showed that their symptoms were related, for example, when a child was having more bowel symptoms, the matched parent also tended to have more bowel symptoms. The same result was found for anxiety and depressive symptoms.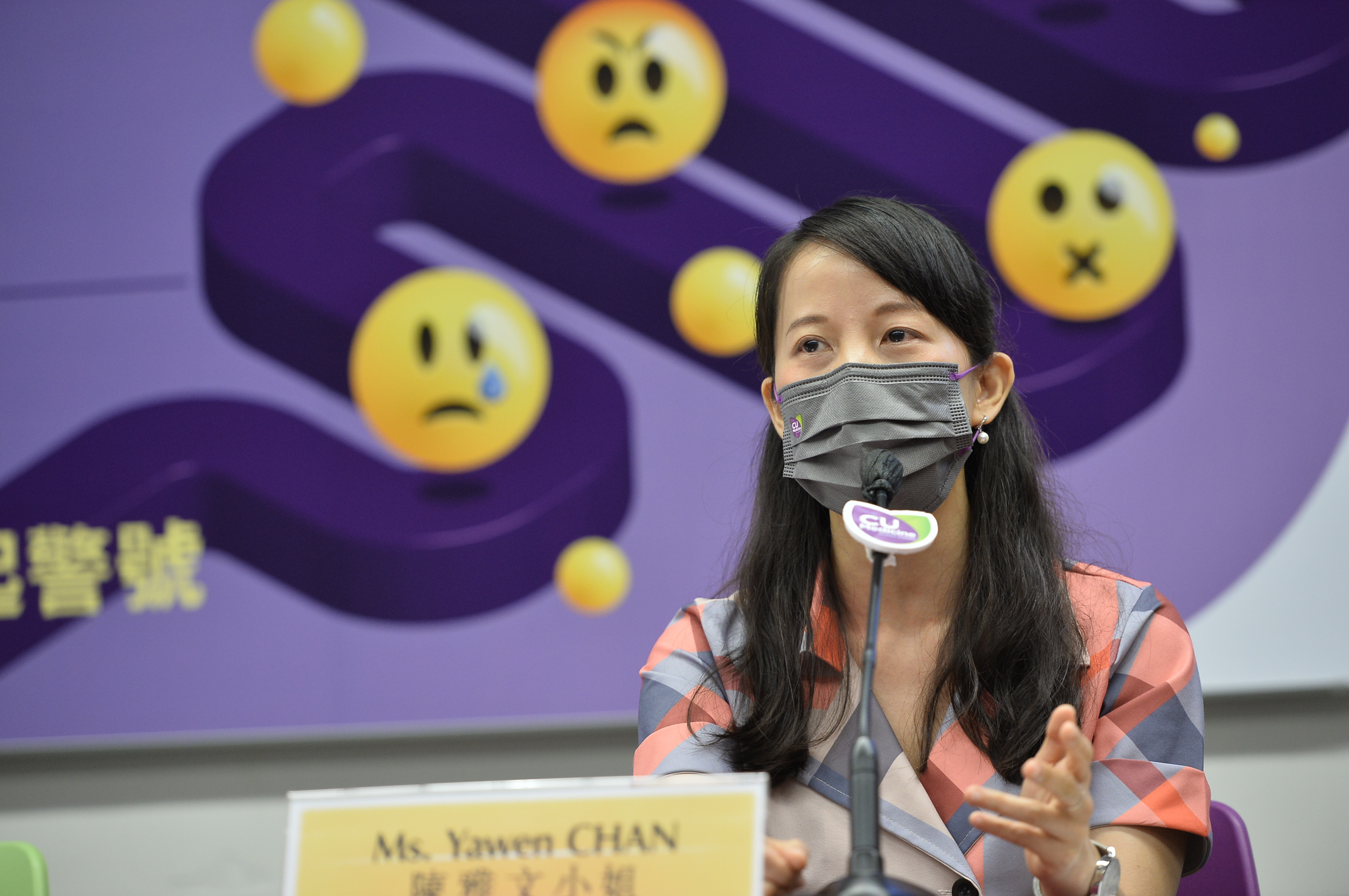 "It is suspected that both nature and nurture factors make family members influence each other, including heredity, children imitating their parents in coping with stress, and family members facing common environmental factors and issues. Therefore, if any family member shows continuous gastrointestinal distress, the others should be aware and check whether they have similar symptoms," said Ms. CHAN. She added that the causes of IBS are rather complex. Besides heredity, emotion could be one of the major reasons that trigger IBS. Acquired factors such as personal stress, financial pressure, academic stress, and parenting style also affect emotional health.
3-step treatment: Medication, lifestyle change and emotion regulation
Professor WU explained that it is easy for the public to confuse IBS with general gastrointestinal diseases and lead to delays in treatment. Thus, it is necessary to raise the public's understanding of IBS and encourage patients to seek medical consultation and treatment. "IBS symptoms could be recurring. If the patient suffers from gastrointestinal problems for a long time, it will seriously affect his or her daily activities, social life and work. It is recommended to consult a doctor as soon as possible if relevant symptoms occur. The combination of medication, mood and daily life management can help stabilise the condition."
Patients should avoid alcoholic and caffeinated drinks as well as high-fat meals and chocolate. They should also prevent binge eating, and embrace a healthy lifestyle including balanced diets, regular exercise, and adequate sleep. In terms of emotions,Ms. CHAN suggested IBS patients should be self-aware and learn how to deal with emotions. Confiding with family members and friends, doing relaxation exercises and maintaining a relaxed and stable mood, all can help reduce gastrointestinal distress. In addition, she encouraged IBS patients, especially the parents, to make good use of community resources and to participate in community activities, gatherings and enjoy personal time.
Communication between family and school helps students to build up self-efficacy and affiliation
According to Dr. Esther Yuk Fan HO, Chairperson of Hong Kong Association of Careers Masters and Guidance Masters, social workers, educators, and class teachers have noticed that both students and parents lacked social activities and support from peers as students learnt at home during the pandemic last year. They were unable to release their pressure, thus decreasing the learning motivation of students. As pessimism prevails and pressure increases, students and parents may also accumulate more and more negative emotions.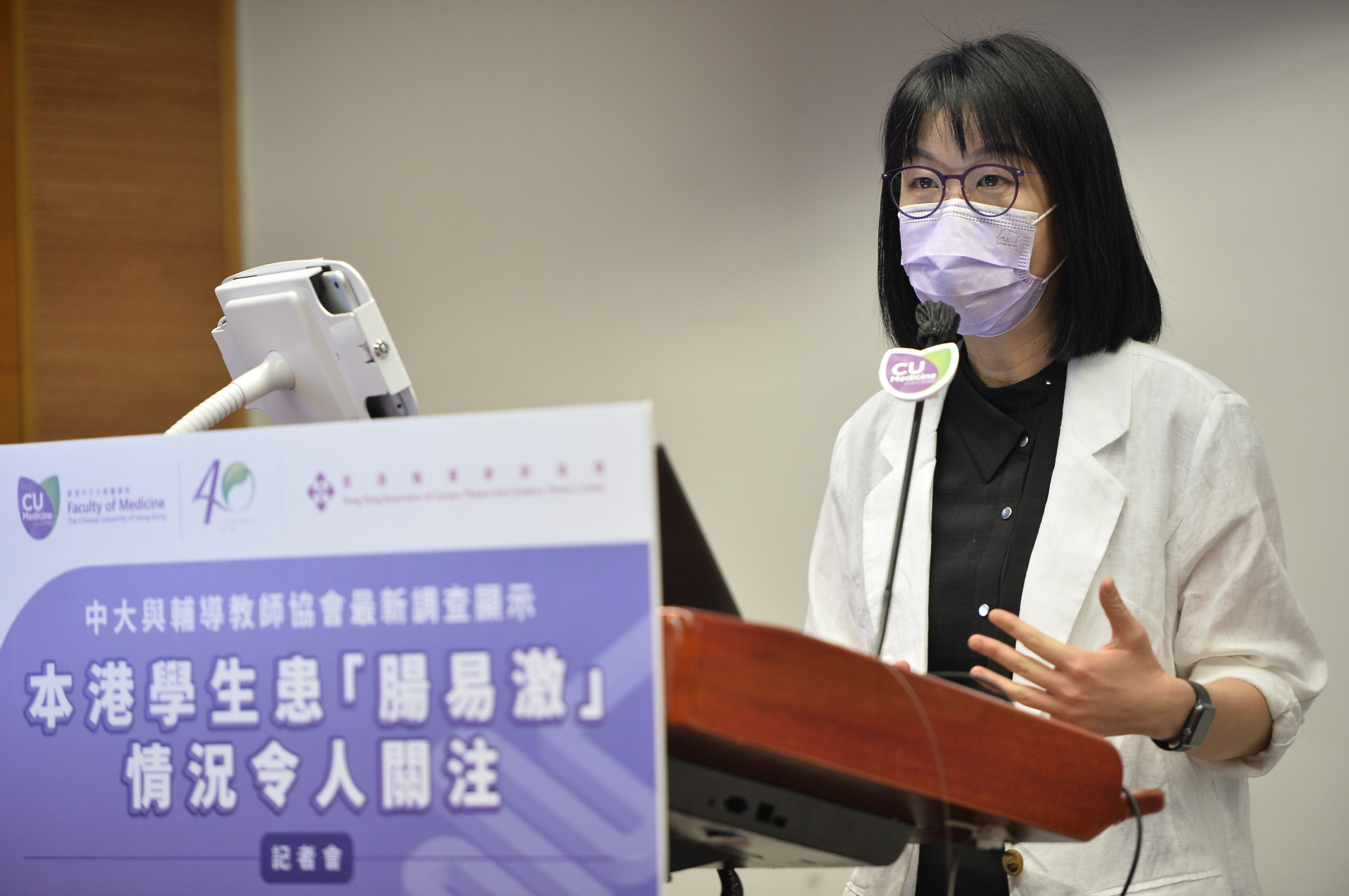 Dr. HO pointed out that both families and schools play a pivotal role in education. They should strengthen their communication and work together to restore the sense of self-efficacy and affiliation of students through different school activities such as online seminars and workshops. Meanwhile, teachers must pay attention to any abnormal behaviour, gastrointestinal distress and negative emotions from their students. School social workers should refer families in need to relevant departments and professionals when necessary.
CUHK Medical Centre has launched an online self-assessment questionnaire for IBS. Public can make a preliminary assessment of their gastrointestinal health. People could consider a doctor consultation as soon as possible if it results in high risk of IBS.
(Link of IBS online self-assessment questionnaire: https://bit.ly/CUHKMC_ibstest2021)