CUHK Professor Rossa Chiu Awarded Chinese Young Women in Science Fellowship Latest Research Breakthrough – Blood DNA Sequencing to Scan for Cancers
Prof. Rossa Chiu Wai-kwun of the Department of Chemical Pathology at The Chinese University of Hong Kong (CUHK) was awarded the Chinese Young Women in Science Fellowship for her research and development of non-invasive prenatal diagnostic approaches. Professor Chiu was one of the 10 awardees selected from 188 candidates nominated by 113 academic units from all over the nation. She was also the only awardee from Hong Kong and Macau to have received the honour this year. The award presentation ceremony was held in Beijing on 11 December.
The Chinese Young Women in Science Fellowship was jointly founded by the All-China Women's Federation, China Association for Science and Technology, the UNESCO China National Committee, and L'Oreal China, and is the only award tailored for female scientists in China. The award aims to reward elite female scientists aged below 45 in all fields of science and to encourage young females to engage themselves in science research and contribute to the welfare of mankind. The top 10 young women scientists selected for the award this year have made significant innovative research accomplishments in their fields which included physics, geography, genetics and applied mathematics.
Prof. Joseph J.Y. Sung, Vice-Chancellor of CUHK, says, 'Professor Chiu richly deserves the recognition for her remarkable contributions and passionate commitment to science. She has set a good example for many young scientists and her innovative research and development of non-invasive prenatal diagnostic approaches have brought profound impact and benefits to people around the world. Her achievement epitomizes the cutting-edge research and state-of-the-art technology developed by CUHK.'
Professor Chiu remarked, 'It is a tremendous honour to be selected for this prestigious cross-disciplinary award where awardees are selected from all scientific fields. I hope that this meaningful award can serve to encourage young female students to devote their talents to advancing science in collaboration with other scientists.'
Latest Research Breakthrough – Blood DNA Sequencing to Scan for Cancers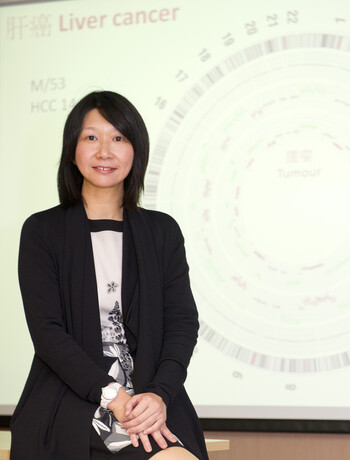 Professor Chiu has been widely acclaimed for her successful clinical applications of the DNA testing of maternal plasma for Down syndrome. These have opened up possibilities for non-invasive prenatal diagnosis which would eliminate the chance of miscarriage associated with invasive procedures. The clinical use of the test is now routine in parts of Asia, including Hong Kong, the US and parts of Europe. Recently, Professor Chiu and her research team have achieved another breakthrough by applying DNA sequencing in cancer diagnosis.
Conventionally, cancers are difficult to detect because they can develop insidiously without the patient noticing. By the time the symptoms present themselves, the cancer may be at an advanced stage already. There are also many different types of cancers, and different blood tests are needed to detect cancers in different organs. It would be ideal to have one single test that can detect as many cancers as possible. This test should be safe and be carried out regularly without causing undesirable side-effects.
Aiming to achieve such ideals, Professor Chiu's research team developed a blood test based on the massively parallel sequencing of DNA molecules released by cancer cells into the blood plasma to detect genetic abnormalities associated with cancers. In a research study that the team has just published in October 2012, the blood test could detect the genetic abnormalities of liver, breast and ovarian cancers. The blood test essentially functioned like a total body scan for cancer-associated DNA. Further research is still needed to determine how early a cancer can be detected using this new blood test. If proven, this new technology will bring enormous impact to medical and science communities worldwide.