CUHK celebrates World Brain Day 2022 Calls for prevention of cerebral small vessel disease to lower the risks of stroke and cognitive impairment
The Division of Neurology at The Chinese University of Hong Kong (CUHK)'s Faculty of Medicine (CU Medicine) conducted brain health evaluations of 550 Hong Kong citizens through a community screening programme between 2019 and 2021, revealing that two-thirds of the participants aged 40-75 suffer from cerebral small vessel disease (CSVD). In light of the World Brain Day, the research team encourages Hong Kong citizens to control vascular risk factors and to adopt a healthy lifestyle to prevent CSVD, a leading cause of stroke and dementia.
The World Federation of Neurology marked World Brain Day on 22 July with a call to increase public awareness and promote brain health advocacy, reducing the healthcare burden from brain disorders. This year's theme, "Brain Health for all", aims to raise public awareness of the prevention and cure of brain diseases.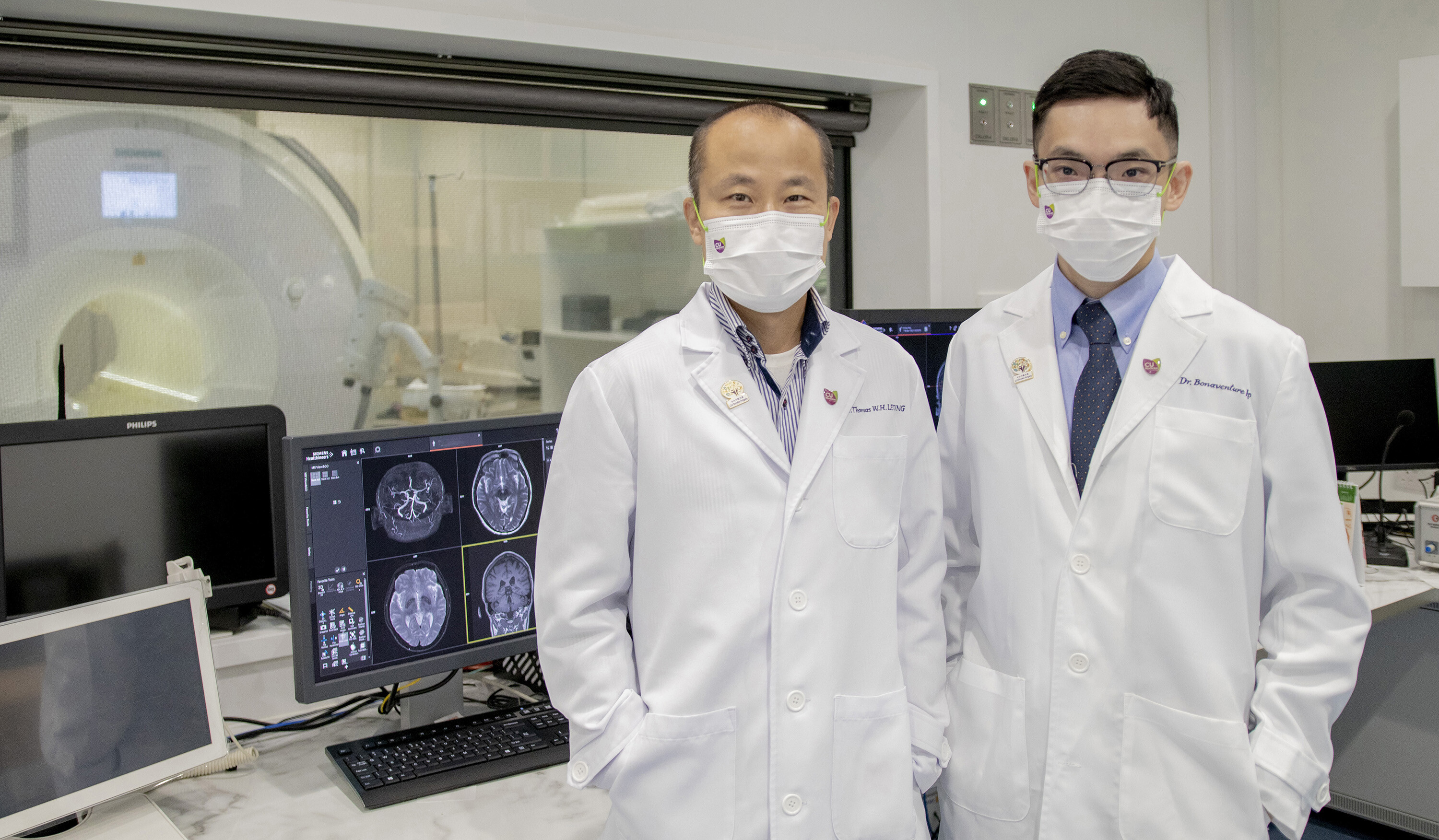 CSVD can lead to stroke and dementia
The Census and Statistics Department projects that the number of people in Hong Kong aged 65 and over will double in the coming 20 years, from 1.32 million in 2019 to 2.52 million in 2039, or one-third of the population in the territory[1]. Although both males and females in Hong Kong enjoy the longest lifespan in the world[2], it is ultimately the number of years with functioning cognition and living independence that determines elderly people's quality of life.
Many brain diseases affect the quality of life, including CSVD. It might not cause obvious symptoms in the early stages, but cognitive impairment, depression, walking problems and urinary incontinence can develop as it progresses. Patients can even develop strokes and dementia when it advances further. An international study showed patients with CSVD have a 2.3-times higher risk of developing a stroke, and are nearly twice as likely to develop dementia.
Two-thirds of the study subjects harbour CSVD
The Division of Neurology, Department of Medicine and Therapeutics at CU Medicine is one of the leading teams in the world of which discover the correlations between CSVD and stroke, as well as cognitive impairment of varying severity. CSVD might have no obvious clinical symptoms at the initial stage, but it can be detected by brain imaging. The research team, led by Professor Thomas Wai Hong LEUNG, Lee Quo Wei Professor of Neurology, Head of Division of Neurology, Department of Medicine and Therapeutics at CU Medicine and President of the Hong Kong Neurological Society, performed brain MRI screenings for 550 citizens aged 40-75 from all socio-economic classes in all districts in Hong Kong who had no history of brain disorders. Results showed 55% of the participants were harbouring subclinical mild CSVD and 11% had moderate to severe CSVD, while cerebral microbleeds were detected in 22%.
High blood pressure is a major CSVD risk factor. The research team has therefore also conducted a blood pressure screening of more than 2,150 citizens. According to the World Health Organization (WHO), a normal adult blood pressure is less than 120/80mmHg, but the screening found that only 34% of citizens were within the range, while 28% had systolic blood pressure over 140 mmHg or diastolic blood pressure over 90 mmHg. Among them nearly 60% were identified with undiagnosed hypertension.
Professor Thomas Wai Hong LEUNG said, "CSVD is likely irreversible, so early prevention plays an important role. Risk factors for CSVD such as high blood pressure, high blood glucose and high cholesterol, are common chronic conditions which seldom cause obvious symptoms at the early stage. Periodic screenings can help identify asymptomatic individuals, so that early intervention or treatment can be initiated to prevent disease progression and complications. Citizens should have regular blood pressure check-ups and get screened for blood glucose and lipid levels periodically, depending on their age, family history and the presence of other risk factors."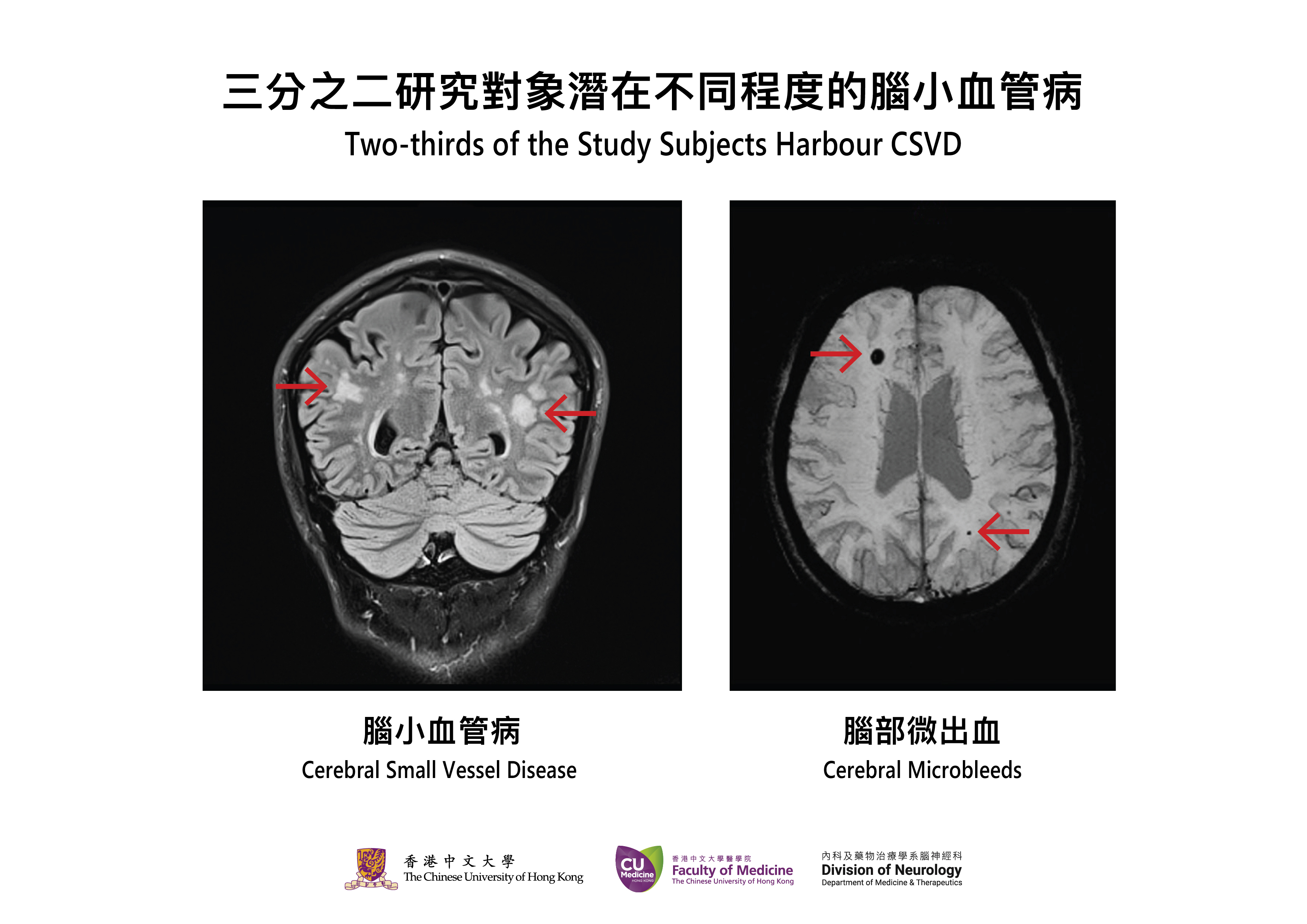 Early Intervention and Prevention of CSVD
The development of CSVD is associated with other risk factors such as smoking, alcohol consumption, unhealthy eating habits, physical inactivity, psychosocial factors, abdominal obesity, hyperlipidaemia, diabetes, and cardiac disorders. Studies showed that the risk factors can be reduced in midlife with a healthy lifestyle including:
Get regular check-ups for "triple H" conditions (high blood pressure, high blood glucose and high lipid levels)
Quit smoking
Reduce excessive alcohol consumption
Maintain a healthy weight with a Body Mass Index (BMI) lower than 25
Keeping a balanced diet consisting of mainly vegetables and some meat, and actively decrease fat, salt and sugar intake
Exercise regularly (defined exercising at least 150 minutes of moderate-intensity aerobic physical activity, such as brisk walking or hiking)
Keep the brain active and learn new skills, with activities such as reading, learning to use new technology or playing board games
Maintain an active social life, such as joining elderly centres or interest classes, or participating in volunteer work.
Stay positive, handle stress properly and getting enough sleep.
Dr. Bonaventure Yiu Ming IP, Assistant Professor, Division of Neurology, Department of Medicine and Therapeutics at CU Medicine, remarked, "The public should proactively adopt a healthy lifestyle to protect themselves against cognitive decline and to maintain vascular and brain health, in order to prevent stroke and dementia."
[1] Census and Statistics Department. Hong Kong Population Projections 2020-2069.
[2]
World Bank. Life expectancy at birth 2020.