CUHK study reveals an elevated stroke risk with switching oral anticoagulants in atrial fibrillation patients who developed breakthrough strokes during anticoagulation therapy
The Division of Neurology at The Chinese University of Hong Kong (CUHK)'s Faculty of Medicine (CU Medicine) conducted the world's first population-based study to evaluate the impact of different antithrombotic approaches on patient outcomes after the first episode of ischemic stroke despite taking direct oral anticoagulants (DOACs). It revealed an elevated risk of recurrent ischemic stroke in non-valvular atrial fibrillation (NVAF) patients on alternative oral anticoagulants. The findings have recently been published in the top international medical journal Neurology.
In light of World Brain Day on July 22, the research team recommends patients be cautious about the practice of switching to warfarin or another DOAC after the first ischemic stroke unless the benefits outweigh the risks.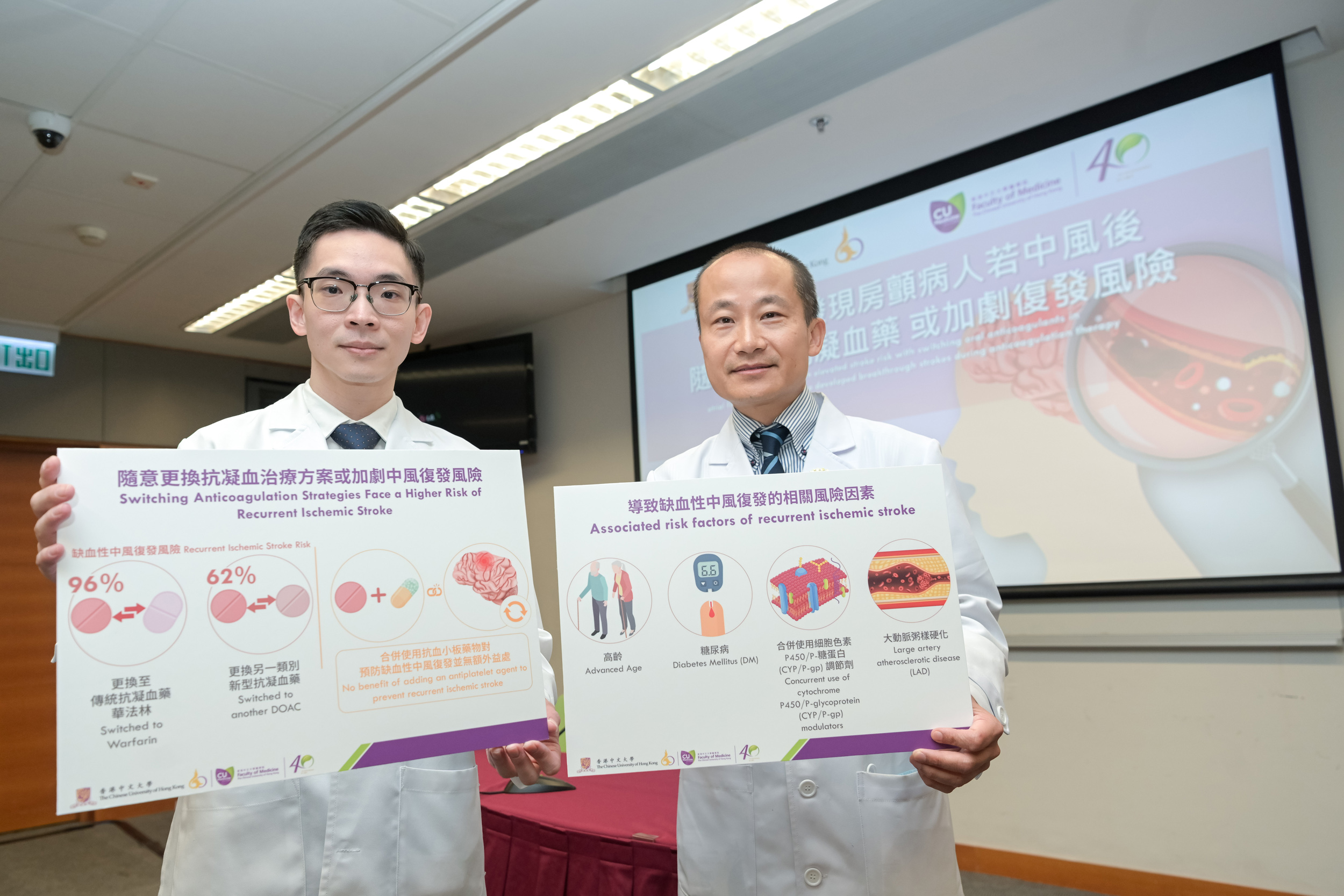 AF could lead to the formation of blood clots and result in stroke
Atrial fibrillation (AF) is a kind of arrhythmia. Irregular heartbeats in AF affect blood circulation in the heart, which may lead to the formation of blood clots. Stroke may result from occlusion of brain vessels when the blood clot formed in the heart is carried to the brain via the blood stream, which is termed as cardioembolic stroke. In general, an AF patient is five times more likely to suffer from a stroke than a normal person. Furthermore, AF-related stroke is the most severe form of ischemic stroke, with high mortality and disability rates. In Hong Kong, AF-related stroke constitutes almost 30% of all ischemic stroke cases.
NVAF patients switching anticoagulation strategies face a higher risk of recurrent ischemic stroke
Previous studies showed that AF-related stroke is highly preventable with oral anticoagulation. Although oral anticoagulation effectively reduces ischemic stroke risk by 60-70% in AF patients, a significant proportion of them may still suffer from ischemic stroke despite DOACs. Given that those who have previously experienced ischemic stroke exhibit a greater likelihood of recurrent events, it is imperative to improve secondary stroke prevention for patients who suffer from ischemic stroke despite taking DOACs.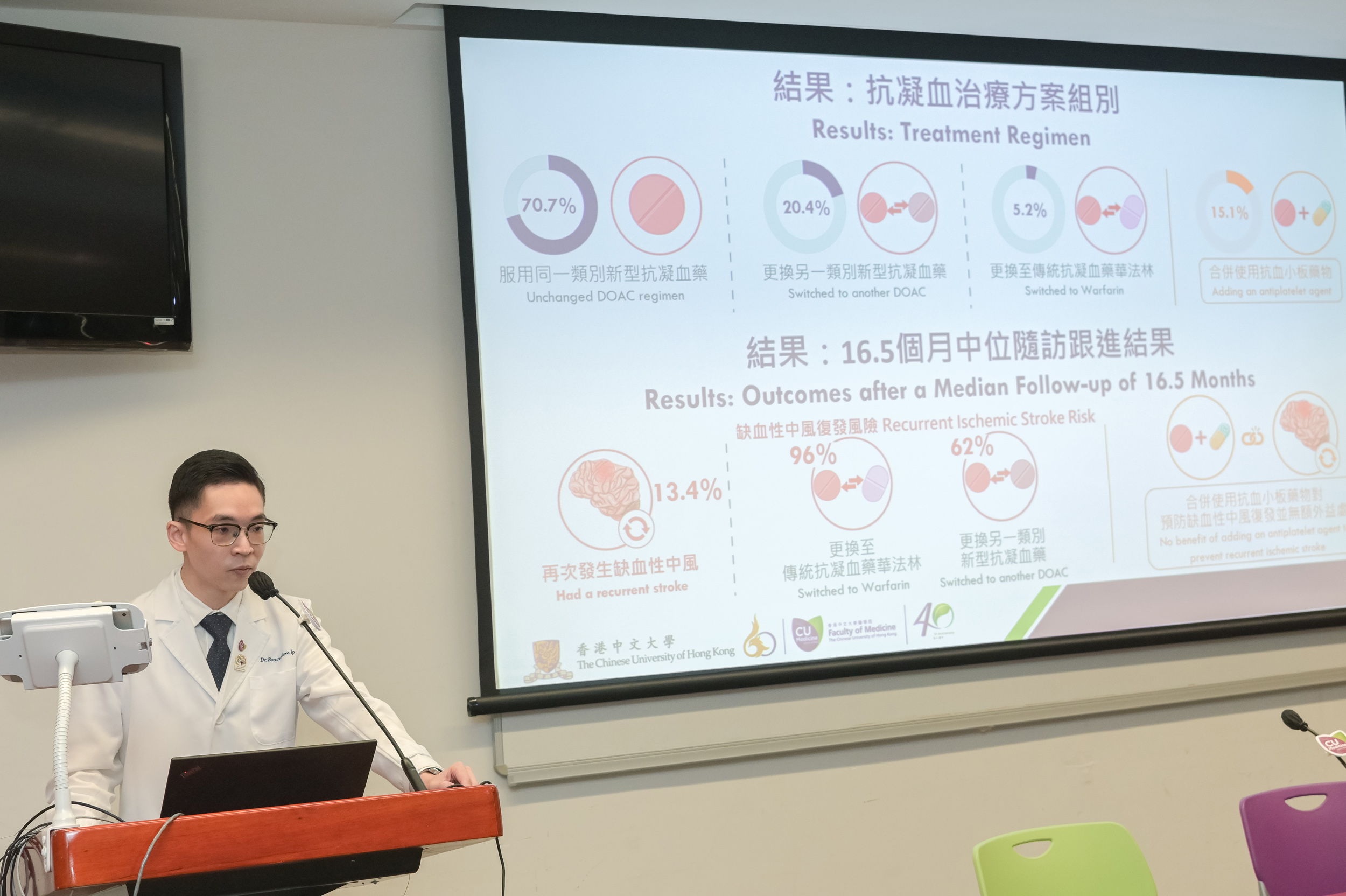 The research team led by Dr Bonaventure Ip Yiu-ming, Assistant Professor in the Department of Medicine and Therapeutics at CU Medicine, conducted the first population-based clinical research to evaluate the clinical trajectory of patients who developed ischemic stroke despite taking DOACs via the Clinical Data Analysis and Reporting System (CDARS), a territory-wide electronic healthcare database from the Hospital Authority. Among the 45,946 public hospital patients with non-valvular AF who received DOACs from 2015 to 2020, 2,337 developed ischemic stroke despite DOAC treatment. Alarmingly, 13.4% of these patients developed another episode of ischemic stroke over a median follow-up period of 16.5 months.
The study further compared patient outcomes between those receiving DOACs with or without an alternative antithrombotic regimen and identified the risk factors for recurrent ischemic stroke while on anticoagulation.
About projected health risks for non-valvular AF patients who have switched DOAC treatment after first stroke
A transition from the initial DOAC treatment to warfarin or another DOAC after an ischemic stroke increased the risk of recurrent ischemic stroke by 96% and 62% respectively.
The "switched DOAC" group also had more than twice the risk of acute coronary syndrome in comparison to the "DOAC unchanged" group.
There was no benefit from adding an antiplatelet agent to prevent recurrent ischemic stroke among non-valvular AF patients.
Several risk factors are associated with recurrent ischemic stroke, including advanced age, diabetes mellitus (DM), concurrent use of cytochrome P450/P-glycoprotein (CYP/P-gp) modulators, and large artery atherosclerotic disease (LAD).
Dr Ip emphasised, "Ischemic stroke despite DOACs is a common clinical conundrum faced by emergency, internal medicine and stroke physicians worldwide. Our study provides the important insight that change isn't always better, especially from the original DOAC to warfarin. More importantly, our work suggested that elucidating the risk factors and precise etiologies of ischemic stroke despite DOACs may be more important than switching or adding antithrombotic agents."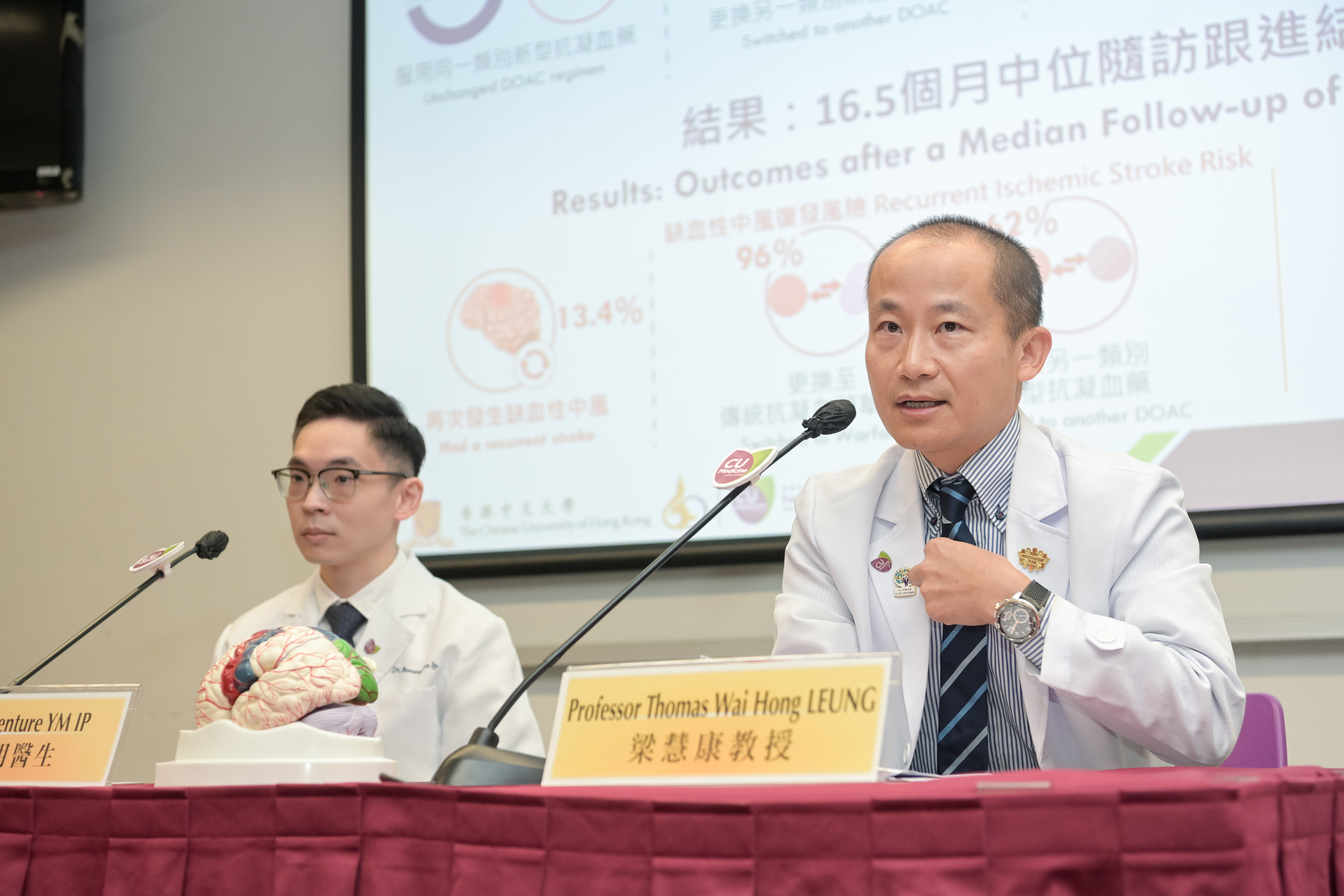 Professor Thomas Leung Wai-hong, Head of the Division of Neurology and Lee Quo Wei Professor of Neurology in CU Medicine's Department of Medicine and Therapeutics, concluded, "Our study provides evidence-based guidance for antithrombotic management for non-valvular AF patients after ischemic stroke despite DOACs. AF is the most common cause of stroke among the elderly. As a result of the ageing population, we believe that the number of AF-related stroke patients will continue to rise. We also encourage patients with AF to seek regular medical follow-up and adhere to the DOAC regimen, which is of paramount importance to reduce the risk of recurrent ischemic stroke."
The research team reminds the public that the prevention of AF and stroke must begin in daily life. Once an individual develops risk factors for AF or stroke, including advanced age, hypertension, diabetes and congestive heart failure, medication can lower the chance of stroke but a residual risk exists. To minimise the risk of developing cardiovascular and cerebrovascular diseases, the research team recommends a healthy lifestyle that includes a balanced diet, regular exercise, moderate alcohol consumption, smoking cessation and stress management.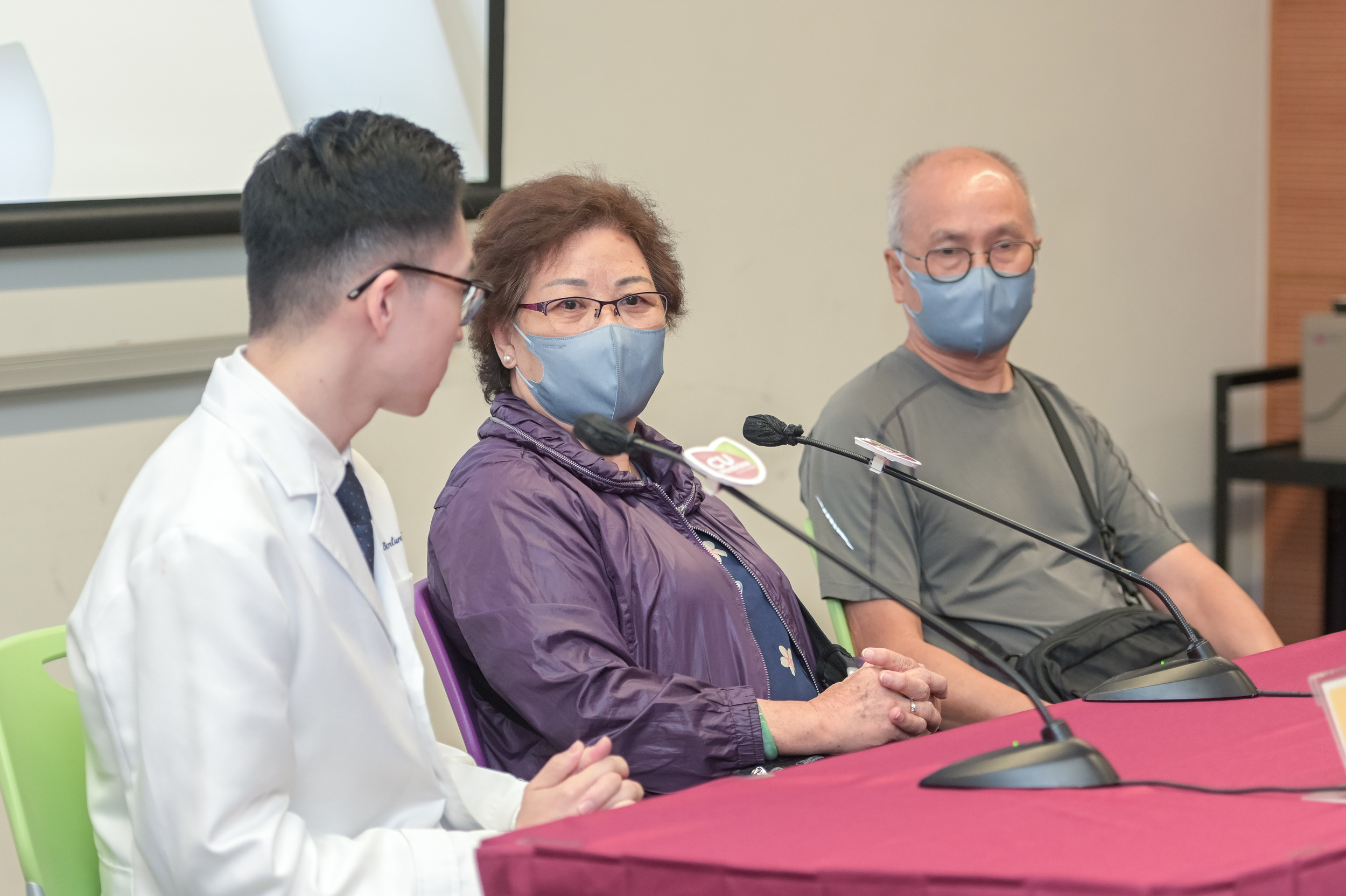 About World Brain Day
The World Federation of Neurology marked World Brain Day on 22 July with a call to increase public awareness and promote brain health advocacy, reducing the healthcare burden from brain disorders. This year's theme, "Brain Health and Disability", aims to raise public awareness of the prevention of disability associated with brain diseases.