CUHK study concludes that plasma EBV DNA screening can detect early asymptomatic nasopharyngeal cancer and reflect the risk of future cancer development
A study by The Chinese University of Hong Kong (CUHK)'s Faculty of Medicine (CU Medicine) showed that plasma Epstein-Barr virus (EBV) DNA screening is effective for the early detection of nasopharyngeal cancer (NPC) and accurately reflects the risk of future cancer. The research team conducted a second round of plasma EBV DNA screening for NPC on the same group of subjects after three to five years of their first-round screening. The second round of screening was again shown to detect early asymptomatic NPC and improve subjects' survival. Remarkably, the team found that among subjects who were previously thought to have false positives for plasma EBV DNA in the first-round screening, the risk of having NPC in the second-round screening is up to 17 times those who tested negative.
The study has profound implications for the interpretation of the circulating tumour DNA-based or liquid biopsy test, which could indicate the future risk of cancer of the subjects in addition to detecting existing cancer. The landmark findings have recently been published in NEJM Evidence, a publication of the New England Journal of Medicine Group.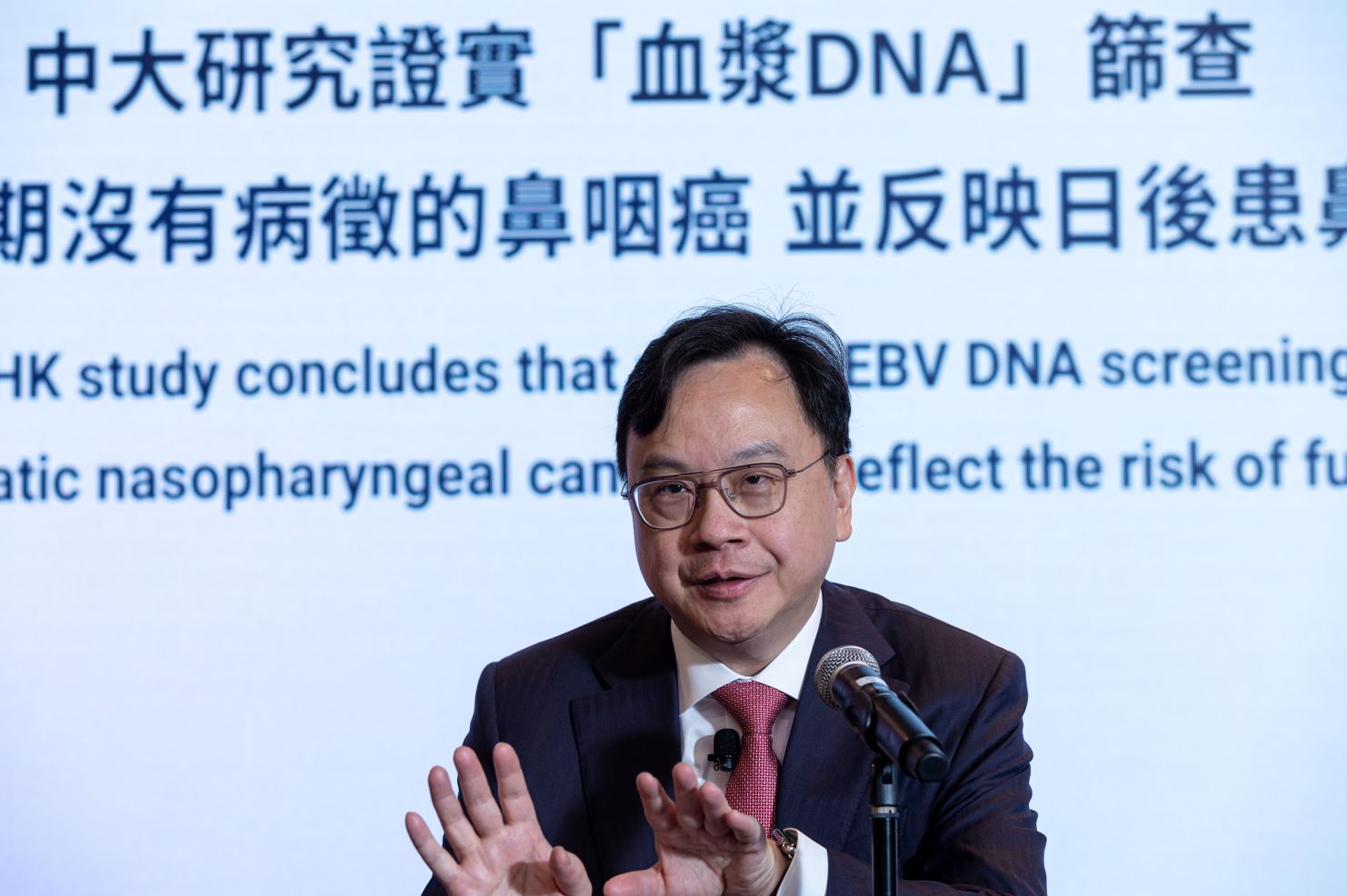 Alarm bell sounds if EBV DNA is persistently detected in plasma
NPC is a common type of cancer in Hong Kong and other parts of Southern China. It is one of the most aggressive head and neck cancers, and frequently metastasises to distant lymph nodes and organs. The incidence of this cancer is up to 35 per 100,000 middle-aged men in endemic areas every year. According to the Hong Kong Cancer Registry, there are more than 700 new NPC cases in Hong Kong every year. NPC is closely associated with EBV infection. The detection of cancer-derived EBV DNA in blood plasma can help identify NPC patients.
From 2013 to 2016, CUHK's research team conducted plasma EBV DNA screening on over 20,000 middle-aged males in Hong Kong without NPC symptoms. Subjects with initial positive test results were retested four weeks later. Three hundred and nine subjects had persistently positive results on initial and follow-up tests; they were further investigated with nasal endoscopic examination and magnetic resonance imaging (MRI). Among them, 34 were confirmed as having NPC, while the screening results of the cases without cancer identified on endoscopy or MRI were regarded as false positives.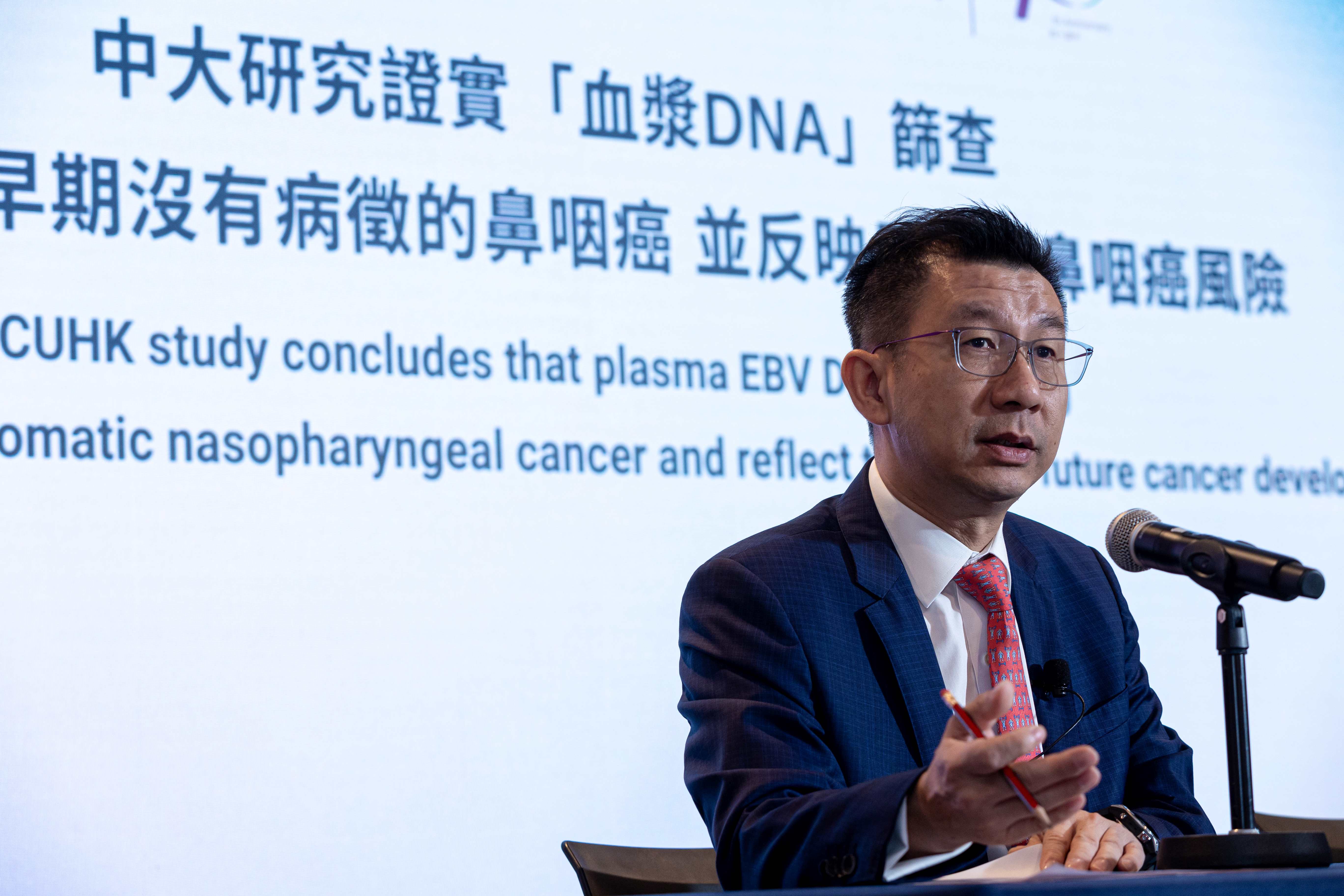 More than 17,000 participants with no cancer identified in the first round underwent a second round of testing three to five years later. Among them, 423 had persistently positive plasma EBV DNA on initial and follow-up tests, and 24 were confirmed as having NPC. About 70% of these NPC cases had early-stage NPC (stages I or II). In contrast, only 20% of NPC patients who had not undergone screening presented with early-stage cancer. This again proves that plasma EBV DNA screening in asymptomatic individuals can lead to earlier detection of NPC. The disease recurred in none of the patients identified by screening after a median follow-up of 33 months.
17 times higher risk of having NPC if plasma EBV DNA results are persistently positive
Notably, the team found a strong correlation between the plasma EBV DNA status of the first round of screening and the chance of detecting cancer in the second round. The risk of being diagnosed with NPC in the second round among those who were persistently positive in the first round of screening was about 17 times that of those without detectable plasma EBV DNA (see details in Table 1).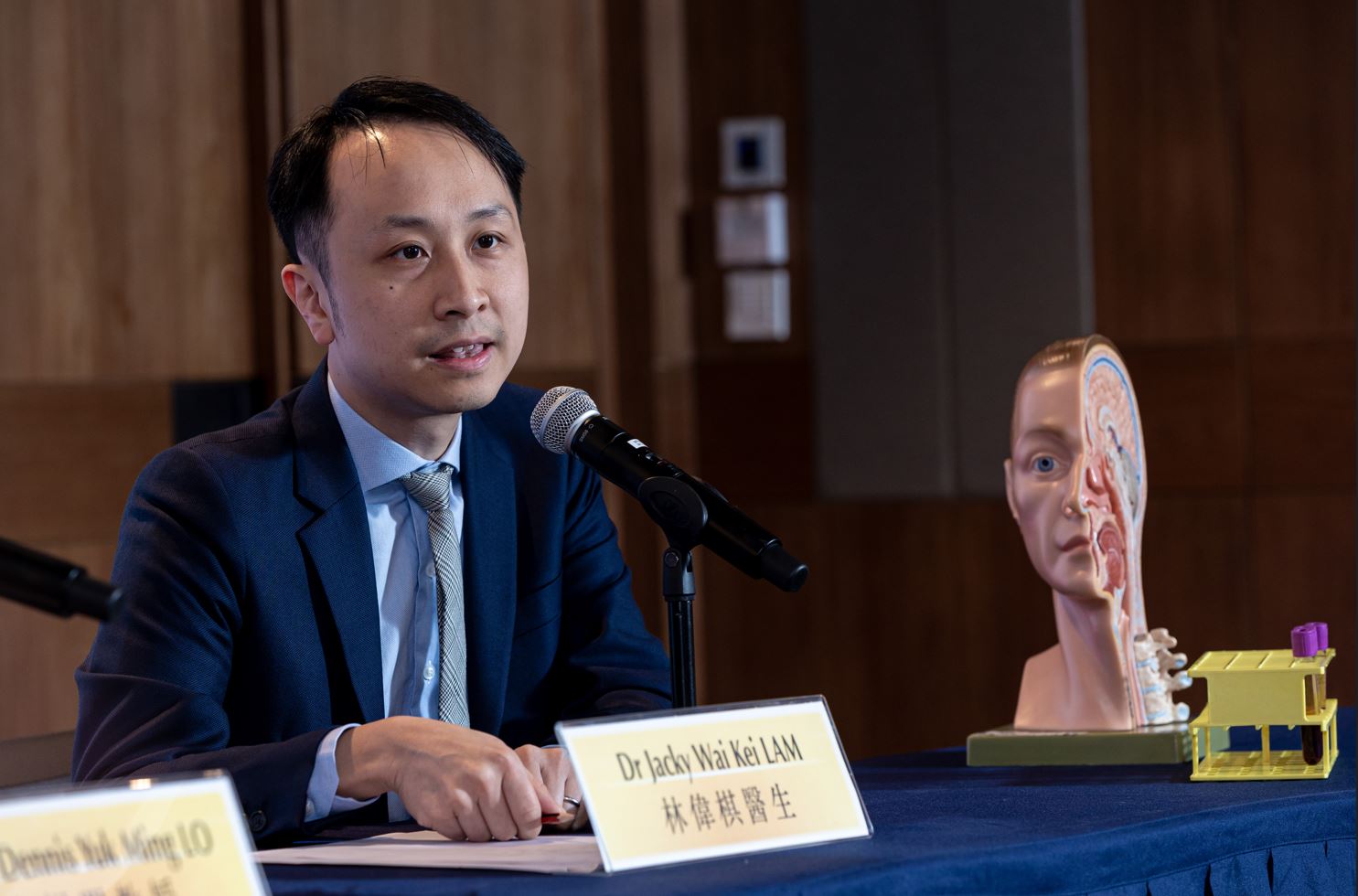 Professor Allen Chan, Professor of Chemical Pathology at CU Medicine and Deputy Scientific Director of Centre for Novostics, stated, "Our findings highlight the clinical significance of plasma EBV DNA positivity. The detection of cancer-associated EBV DNA in plasma not only indicates the presence of a current NPC, but can also reflect the risk of developing the cancer in the future."
Professor Dennis Lo, Director of the Li Ka Shing Institute of Health Sciences at CUHK and Scientific Director of Centre for Novostics, known for his landmark discovery of the presence of cell-free fetal DNA in maternal plasma, has been working to apply circulating DNA analysis to the screening of early cancers.
He remarked, "Plasma DNA-based tests are increasingly used for the screening of various types of cancer. In a proportion of test-positive subjects, no cancer could be identified after further investigation. Our large-scale prospective study demonstrated that detection of cancer-related DNA changes in a blood test also reflects an increased risk of cancer in the future. In addition to NPC, it is possible that this phenomenon might also be seen for other cancers. In addition to detecting early asymptomatic cancers to improve the survival rate of patients, it can predict the future cancer risk of subjects so that they can take appropriate management measures, such as more frequent follow-up to look for emerging cancers."
The members of the team who worked on this research come from CUHK's Li Ka Shing Institute of Health Sciences, State Key Laboratory of Translational Oncology (CUHK), CU Medicine's Department of Chemical Pathology, Department of Otorhinolaryngology, Head and Neck Surgery, Department of Imaging and Interventional Radiology, The Jockey Club School of Public Health and Primary Care, Department of Clinical Oncology, and the Centre for Novostics at Hong Kong Science Park. The Centre for Novostics is supported by the Hong Kong SAR government's InnoHK scheme.
Table 1: Plasma EBV DNA status at the first round of screening for NPC patients identified at the second round of screening
Plasma EBV DNA status at the first round of screening

Total no.

of participants

No. of cases of NPC identified in second round of screening

Percentage of participants with NPC identified in the second round of screening

Relative risk

Negative

16,924

17

0.100%

1.0

*Transient

677

3

0.443%

4.4

Persistent

237

4

1.688%

16.8
*Participants with detectable plasma EBV DNA at baseline that became undetectable four weeks later in the follow-up test