CU Medicine supported by the Hospital Authority to launch HK's first large-scale Long COVID survey, aiming to inform the government on impact of long COVID on healthcare services
Close to 1.3 million people have been infected with SARS-CoV-2 in Hong Kong. Many people still experience certain symptoms including fatigue, poor memory, difficulty in sleeping, reduced exercise tolerance and hair loss, weeks or even months after recovery. These symptoms are collectively known as long COVID. With support from the Hospital Authority, The Chinese University of Hong Kong (CUHK)'s Faculty of Medicine (CU Medicine) is rolling out a massive survey of long COVID in an effort to understand this mysterious condition and its impact on health outcomes. These data will inform the government on the need for provision of special medical care for people debilitated by long COVID.
CU Medicine latest data: 70% recovered patients in Hong Kong report moderate to severe long COVID symptoms
Long COVID is defined as the presence of at least one persistent symptom four weeks or more after clearance of SARS-CoV-2 virus. According to a previous study by CU Medicine, 76% of patients had long COVID six months after recovery. Recent long COVID data collected locally showed that approximately 70% of recovered patients had reported moderate to severe long COVID symptoms.
Professor Siew Chien NG, Professor of the Department of Medicine and Therapeutics at CU Medicine and Director of Microbiota-I Center (MagIC) said, "There's likely a very large number of people who have a disability from long COVID, given that at least one million people in Hong Kong contracted the virus during the fifth wave here. Long COVID can impair a person's ability to work which could have economic consequences for them and their families.
"We have previously identified for the first time distinct gut microbiome profiles associated with long COVID. These distinct gut microbial signatures can be used to predict the risk of developing long COVID and diagnose long COVID in patients with persistent symptoms after the acute infection. The information from this survey could play a pivotal role in developing diagnostic tests and finding tailored treatments for patients who remain sick months after contracting COVID-19."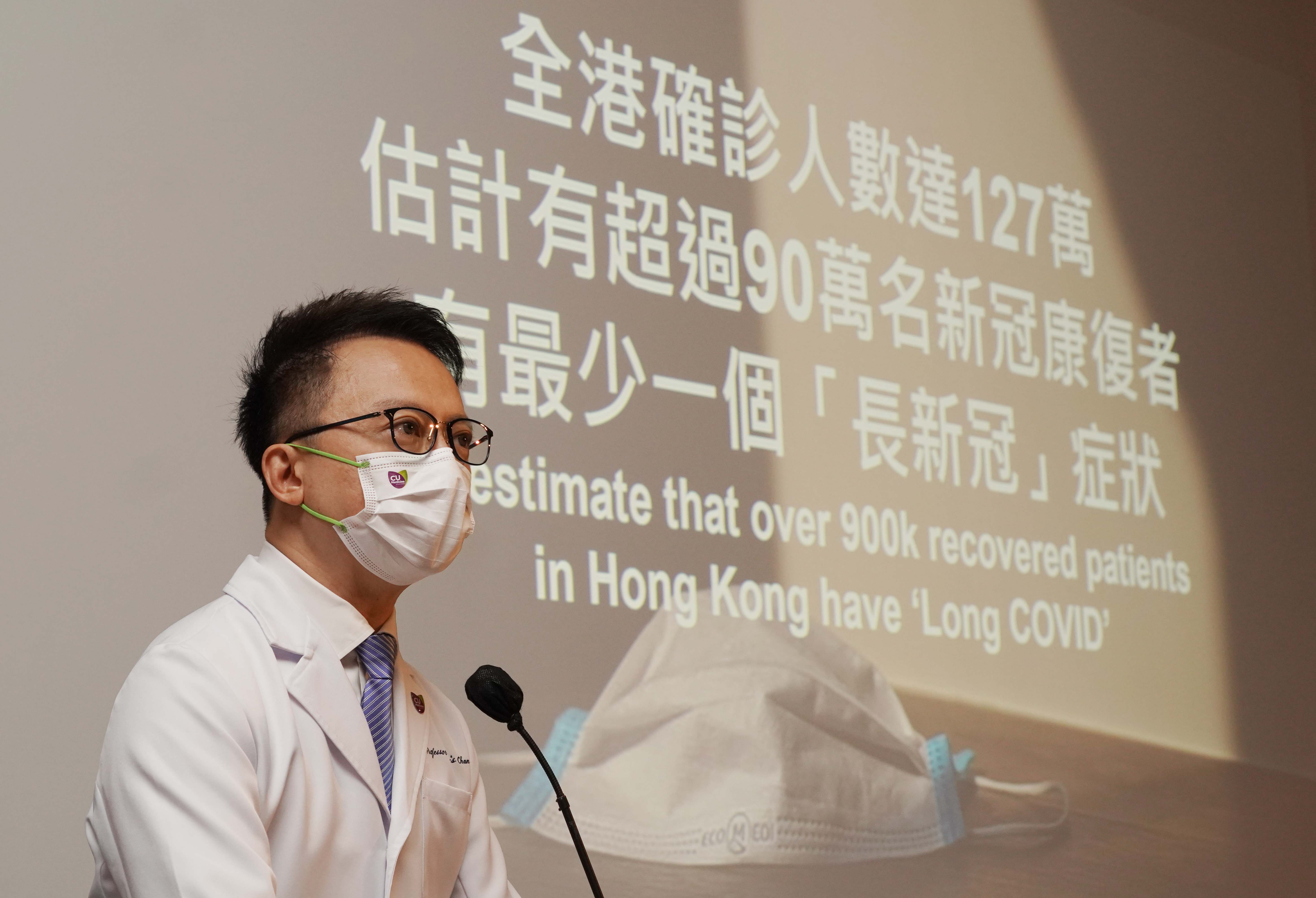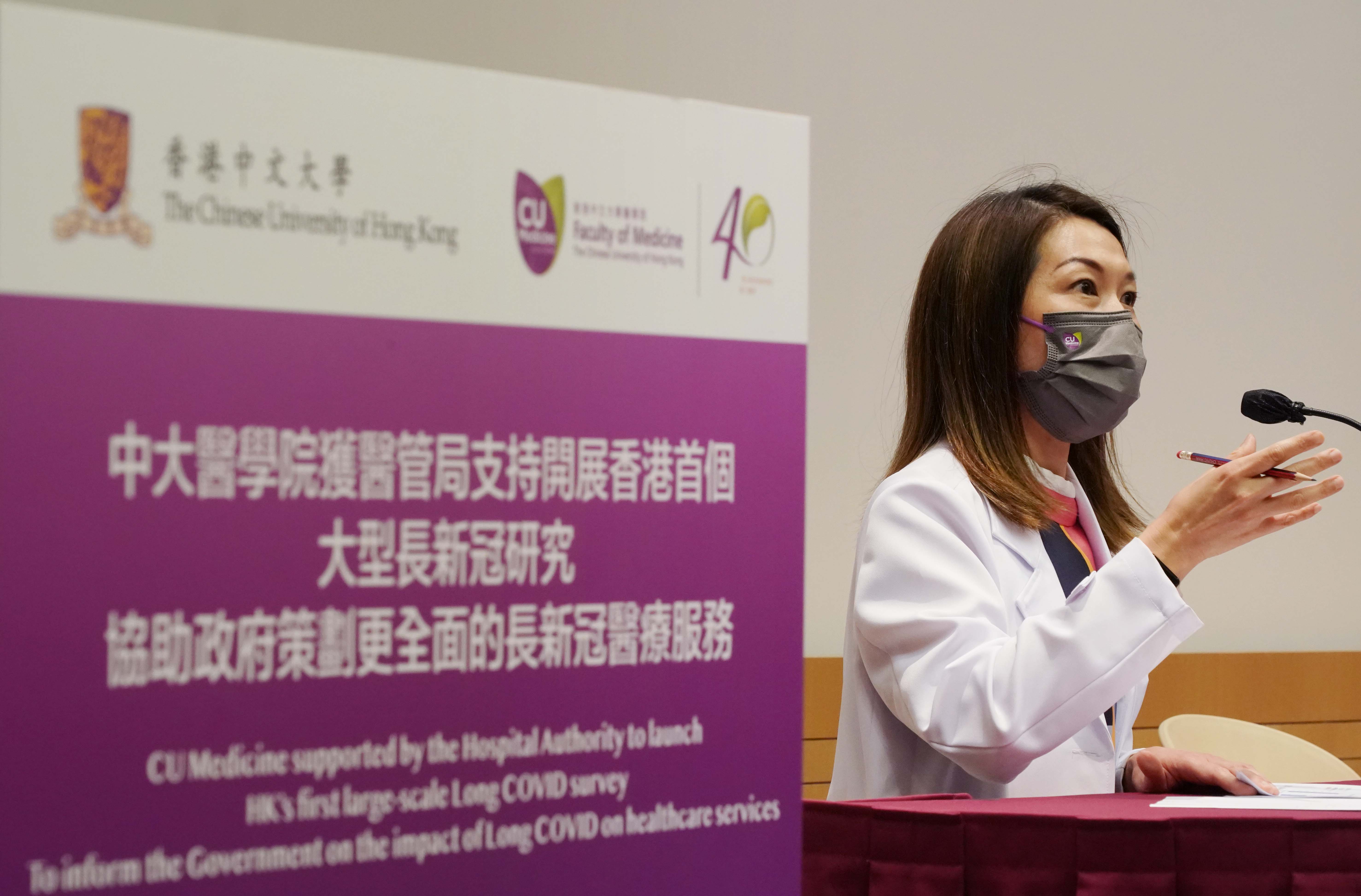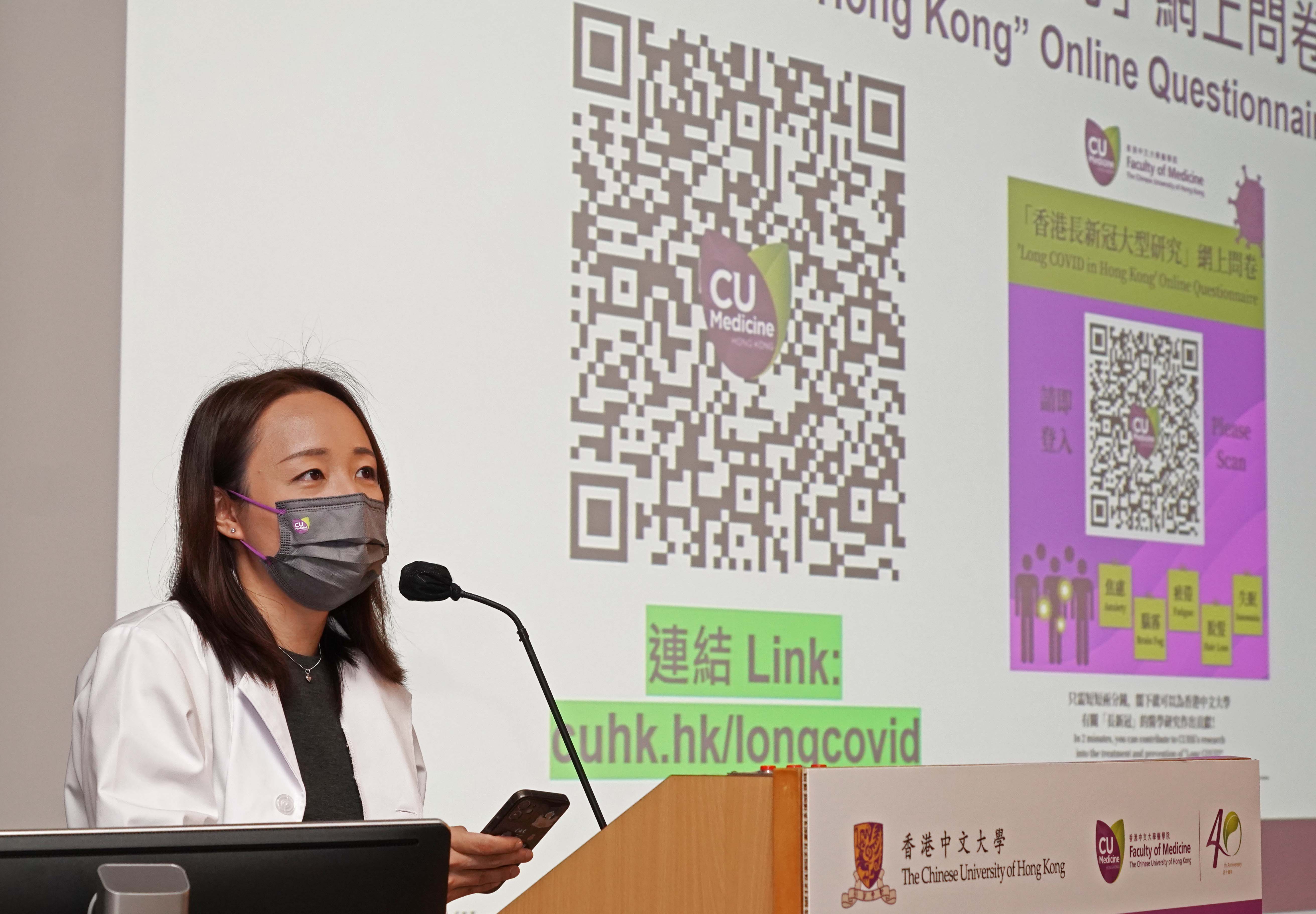 The online survey takes two minutes to complete and is accessible at all Hospital Authority's platforms
The Long COVID survey is a bilingual online survey for any patient who have recovered from COVID-19, including the elderly people and children. The research team will collect basic clinical information, long COVID symptoms and their impact on daily life. Posters with a QR code are on display at outpatient clinics (Western and Chinese medicine) under the Hospital Authority. Data will be anonymised to protect subject's privacy. Subjects who are interested can also participate in a subsequent gut microbiome long COVID study to understand the impact of gut microbiome disturbance on their symptoms and the potential for microbiome modulation to improve them.
Professor Francis KL CHAN, Dean of Medicine and Director of the Centre for Gut Microbiota Research at CU Medicine, said, "Long COVID is a pressing global health issue and holistic care is needed. We are rolling out this large-scale survey to collect data to facilitate future healthcare policy. Our team has developed a novel gut microbiome-based approach to predict, diagnose and treat long COVID. Although the Hospital Authority and local Chinese medicine community have been providing rehabilitation services to patients, this survey will further facilitate development of a novel platform that provides integrative medicine and holistic treatment to patients with long COVID."
For those who are interested, please register at cuhk.hk/longcovid or scan this QR code.