CU Medicine Study Shows Modulation of Gut Microbiota Helps Enhance Safety and Efficacy of COVID-19 Vaccine
The gut microbiome controls our immunity and protects us from invasion from pathogens. Studies have shown that it also plays a vital role in immune response after vaccination. Preliminary study in the laboratory using blood samples from individuals who have received COVID-19 vaccine showed that addition of a beneficial bacteria consortia developed by The Faculty of Medicine at The Chinese University of Hong Kong (CU Medicine) is effective in reducing inflammatory cytokines and enhancing antibody level. The research team is now launching clinical trials to investigate the impact of modulation of gut microbiota in reducing vaccine-related adverse reactions and improving efficacy of COVID-19 vaccine.
Gut microbiome Plays a Vital Role in Immune Response from Vaccination
Vaccine triggers the immune system to develop antibodies and memory cells to protect against future infections. An unhealthy gut microbiome can hinder antibody production or lead to inflammatory cytokine storm, increasing the risk of adverse reactions. Earlier studies from CU Medicine have shown a link between altered gut microbiome and COVID-19 severity. More patients who received a novel microbiome immunity formula achieved complete symptom resolution and developed neutralising antibody than those who did not. Research from the Faculty also reported that almost 40% of people in Hong Kong had significant gut dysbiosis especially the elderly and patients with diabetes, obesity or chronic diseases.
Improving Gut Microbiome to Enhance Safety and Efficacy of Vaccination
To support the hypothesis that the gut microbiome can impact vaccine response and safety, CU Medicine conducted a laboratory investigation. Researchers collected blood samples from ten subjects who recently received COVID-19 vaccination, whereby four of them had been taking the microbiome immunity formula developed by CU Medicine for up to two months prior to vaccination. Our preliminary findings showed that subjects who had been taking the microbiome immunity formula showed up to 80% lower concentration of inflammatory cytokine and a 1.5-fold higher proportion of B cell, a blood cell that produces antibodies, in their blood compared with a control group.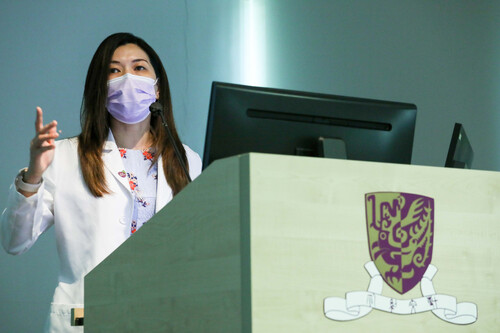 Professor Siew Chien NG, Associate Director of the Centre for Gut Microbiota Research at CU Medicine, explained, "Our previous study showed that altered gut microbiome is linked to increased severity and persistent symptoms of COVID-19. Imbalanced gut microbiota is associated with systemic inflammation and blunted immune response to vaccination. These early laboratory results are encouraging and suggest that the microbiome immunity formula can suppress inflammatory response associated with unwanted adverse events after vaccination."
Large-scale Study to Investigate How Gut Microbiome Affects Vaccine Safety and Efficacy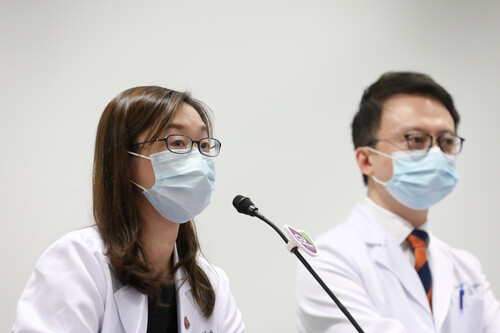 Based on these preliminary findings, CU Medicine is now launching clinical trials to recruit 500 subjects with type 2 diabetes mellitus and aged 65 or above, to investigate the effect of the microbiome immunity formula on COVID-19 vaccine response and safety.
It will be a randomised controlled study that includes participants randomised to microbiome immunity formula or placebo.
Dr. Joyce Wing Yan MAK, Assistant Professor of the Department of Medicine and Therapeutics at CU Medicine, said, "There is an urgent need to explore in what ways and how our gut microbiome affect vaccine response and adverse reactions. We hope this clinical study will help enhance the safety of vaccination."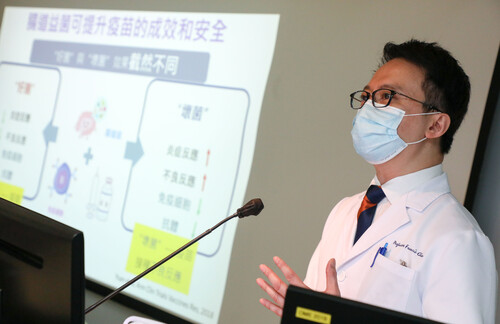 Professor Francis KL CHAN, Dean of Medicine and Director of the Centre for Gut Microbiota Research at CUHK, concluded, "Our immune system is a 'double-edged sword'. Vaccines can stimulate our immune system to induce antibody formation to protect us, but a lack of good bacteria can tip the balance to overwhelm our immune response leading to unwanted adverse effects. As we await more safety data on existing vaccines or the development of new vaccines, it is important for people to improve their gut microbiota to optimize the safety and efficacy of COVID-19 vaccines, which is especially crucial for the elderly, patients with obesity, diabetes or other chronic diseases."